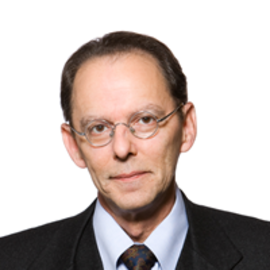 Patrick Louis Knudsen
Grover M. Hermann Senior Fellow in Federal Budgetary Affairs.
Patrick Louis Knudsen, the senior budget expert at The Heritage Foundation, learned the ins and outs of federal spending in 20 years on the staff of the Budget Committee of the U.S. House of Representatives. As Heritage's Grover M. Hermann senior fellow in federal budgetary affairs, the former journalist brings a clear perspective to the job. Knudsen, who joined Heritage in August 2011, sees the budget as an indispensable mechanism for limiting the size and scope of the federal government; restoring the proper constitutional roles of states and localities; and maintaining a foundation for the flourishing of free markets. Previously, as policy director of the Budget Committee from January 1991, Knudsen edited, wrote or co-wrote virtually all the panel's Republican policy products – from committee reports to appropriations and legislative analyses to economic studies. He gained an intimate knowledge of the fiscal and policy elements of key issues such as entitlements, health care, Social Security economic stimulus and deficits and debt, as well as the budget process itself. Knudsen had a central role in ensuring the quality and credibility of the committee's work. He saw the budget rise from deficit to surplus, then sink even deeper into deficits, yet remains optimistic about restoring balanced budgets as the norm. Before his stint on Capitol Hill, Knudsen worked for a decade as a reporter, editor and occasional editorial writer at metropolitan newspapers in his home town of Milwaukee, Wis., and in Rochester, N.Y. He covered government at all levels – town, city, county, state and federal. During a brief turn at Congressional Quarterly, Knudsen quickly became fascinated with Congress, which soon became the second stage of his professional career. Heritage is the third. Knudsen holds a bachelor's degree in English from the University of Wisconsin-Milwaukee, and earned 27 credits in the master's program there. He credits poet-playwright T.S. Eliot and novelist Saul Bellow with making key contributions to his conservative philosophy and Carl G. Jung, the pioneering Swiss psychiatrist, with explaining the moral, spiritual and psychological imperative of individualism and personal responsibility. Knudsen, who currently resides in Alexandria, remains an avid reader of philosophy, history and literature. He also is a movie and music enthusiast.
Related Speakers View all
---
Ray Walser, Ph.D.

Senior Policy Analyst.

Charles "Cully" Stimson

Chief of Staff and Senior Legal Fellow.

Jack Spencer

Senior Research Fellow, Nuclear Energy Policy.

James Sherk

Senior Policy Analyst in Labor Economics.

Derek Scissors, Ph.D.

Senior Research Fellow.

Brett D. Schaefer

Jay Kingham Fellow in International Regulatory Affairs.

Paul Rosenzweig

Paul Rosenzweig, who helped craft policy and strateg...

James M. Roberts

Research Fellow For Economic Freedom and Growth.

James Phillips

Senior Research Fellow for Middle Eastern Affairs.

David B. Muhlhausen, Ph.D.

Research Fellow in Empirical Policy Analysis.

Derrick Morgan

Vice President, Domestic & Economic Policy.

Robert E. Moffit, Ph.D.

Robert E. Moffit, a seasoned veteran of more than th...

Ambassador Terry Miller

Director, Center for International Trade and Economi...

Ken McIntyre

Marilyn and Fred Guardabassi Fellow in Media and Pub...

Matt A. Mayer

Visiting Fellow.

Walter Lohman

Director, Asian Studies Center

Paul Larkin

Senior Legal Research Fellow

David W. Kreutzer, Ph.D.

Research Fellow in Energy Economics and Climate Change.

Bruce Klingner

Senior Research Fellow, Northeast Asia.

Daniel H. Johnson, Jr., M.D.

Daniel H. Johnson, Jr., M.D., is a practicing diagno...
More like Patrick