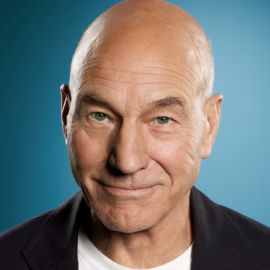 An internationally respected actor known for successfully bridging the gap between the theatrical world of the Shakespearean stage and contemporary film and television, Patrick Stewart continues to demonstrate his versatility with a wide range of upcoming projects.
Stewart recently completed filming his next movie project for TNT which he is co-producing with Hallmark Entertainment. He will star in the title role of "King of Texas," an updated version of "King Lear" set in Texas during the Mexican revolt in the mid-1800s. The film will also star Marcia Gay Harden, Lauren Holly, Roy Scheider, Patrick Bergin, David Allen Grier, Matt Letscher and Julie Cox.
In December 2001 Stewart was heard as the voice of King Goobot in Nickelodeon Movies' computer animated motion picture "Jimmy Neutron: Boy Genius."
In November 2001 Stewart began production on the tenth installment of Paramount Pictures' "Star Trek" feature films, reprising his role as Captain Jean-Luc Picard and reteaming with "Star Trek" cast member Brent Spiner in a script by John Logan (Gladiator).
In June 2002 Stewart began work on the sequel to 20th Century Fox's blockbuster "X-Men," directed by Bryan Singer from a script by Ed Solomon and Chris McQuarrie. Stewart will reprise his role as 'Professor Xavier,' a wheelchair-bound professor said to be the planet's most powerful telepath, which earned him a nomination for Favorite Actor in the Blockbuster Entertainment Awards. The sequel will reunite all the original cast members including Sir Ian McKellan, Dougray Scott, Halle Berry and Anna Paquin.
Last summer, Stewart appeared on Broadway in Arthur Miller's "The Ride Down Mt. Morgan" which received a Tony nomination for Best Play. He returned to the role of Lyman Felt, a bigamist who is visited by his two wives while he is convalescing in a hospital after an automobile accident. His critically acclaimed debut at the Public Theatre in 1998, earned him a Drama Desk nomination. Last year, Stewart was seen on-television in TNT's A Christmas Carol." He earned a SAG Award nomination for his portrayal of "Ebenezer Scrooge," a role which continues a cherished association with Charles Dickens' classic that has included his noted one-man performance of the play on Broadway. The film was produced by Robert Halmi and Stewart for Hallmark, and also starred Joel Grey.
Stewart earned both Emmy and Golden Globe nominations for "Best Actor in a Dramatic Series or MiniSeries" for his role as 'Captain Ahab' in the USA network's "Moby Dick," opposite Gregory Peck and Henry Thomas. The $18 million epic mini-series was filmed on location in Australia and set a ratings record for the network.
In 1998, Stewart received critical notice for his portrayal in the title role of "Othello" at the Shakespeare Theatre in Washington, DC. Jude Kelly directed Stewart along with an otherwise all-Black cast in a 'photo-negative production' which took a bold, new look at the play. Stewart's performance was praised in the New York Times as "never anything less than uncanny in his psychological portrait: it's like watching an autopsy on human feeling."
In December of 1996, Stewart brought "A Christmas Carol," his award-winning adaptation of Charles Dickens' classic tale, to an exclusive engagement at the Doolittle Theatre. Stewart first performed this acclaimed one-man show for Broadway audiences in 1991, playing over 40 characters and earning him a Drama Desk Award for Best Solo Performer. This marked his first return to the New York stage since 1971, when he appeared in the now legendary Peter Brook production of "A Midsummer Night's Dream." When Stewart presented "A ChristmasCarol" at London's Old Victorian Theatre he received an Olivier Award nomination as Best Actor and the Olivier Award for Best Entertainment.
On television, Stewart originated the role of 'Jean-Luc Picard' in the hit series "Star Trek: The Next Generation" which aired from 1988 to 1994; this role earned him Best Actor nominations from the American TV Awards and the Screen Actors Guild. In addition to his starring role, he also directed several episodes, one of which ("A Fistful of Datas") received an Emmy. Stewart reprised the role of 'Jean-Luc Picard' for Paramount Pictures in the motion pictures "Star Trek: Generations" (which also starred William Shatner and Malcolm McDowell), "Star Trek: First Contact" and "Star Trek: Insurrection."
Stewart's additional film credits include the film adaptation of Paul Rudnick's play, "Jeffrey," "Lady Jane," "Excalibur," "LA Story," "Death Train," "Robin Hood: Men In Tights," "Gunmen," "Masterminds," "The Pagemaster," "Conspiracy Theory," "Safe House" and "Dad Savage." He also lent his voice to the character, 'Seti,' in Dreamwork's hit animated feature film, "Prince of Egypt."
Other television roles include the title role of "The Canterville Ghost" for ABC and The Hallmark Hall of Fame, TNT's "In Search of Dr. Seuss," FOX's animated series "The Simpsons," as well as hosting several documentary series including "The Shape of the World" on PBS and TNT's "MGM: When the Lion Roars," a six-part series on the history of Metro-Goldwyn Mayer.
For the BBC, Stewart has been seen in the acclaimed miniseries, "I, Claudius," "Tinker, Tailor, Soldier, Spy," and "Smiley's People." He has also portrayed Salieri in "The Mozart Inquest," Oedipus in "Oedipus Rex," and Rev. Anderson in "The Devil's Disciple."
Stewart is an Honorary Associate Artist of the Royal Shakespeare Company, having been made an Associate Artist in 1967. With the RSC he has played such roles as King John, Shylock, Henry IV, Cassius, Titus Andronicus, Oberon, Leontes, Enobarbus, Touchstone and Launce. He has also starred in many contemporary works with the RSC, including premiere productions by Tom Stoppard, Edward Bond, Howard Barker and David Rudkin. In 1986, he played the title role in Peter Shaffer's play "Yonadab" at the National Theater. Stewart won the Society of West End Theater (SWET) Award for his performance as Enobarbus in Peter Brook's production of "Antony and Cleopatra" and was nominated for his Shylock in "The Merchant of Venice."
Videos
---
Related Speakers View all
---
Ashton Kutcher

Actor, Producer, Investor & Activist

Doug Benson

Comedian, Actor, Writer, and Creator and Star of "Su...

Henry Winkler

Actor, Producer, Director & Best-Selling Author; Bes...

Ben Stein

Political Economist, Commentator, Author & Actor

David Schwimmer

Actor, Director, Producer, Voice Actor and Comedian

Penn Jillette

Magician, Actor, Musician, Inventor, Television Pers...

Adrian Grenier

Actor Known for HBO's "Entourage"; Environmental Act...

Richard Dreyfuss

Academy Award-Winning Actor

Robert Downey Jr.

Actor, Producer

Sir Richard Branson

Businessman & Founder of Virgin Group

Anthony Anderson

Actor, Producer, Comedian, Writer & Game Show Host, ...

Joey Graceffa

YouTube Personality & Author of "In Real Life"

Flula Borg

Actor, Host and Online Personality; Known for His Ro...

Nash Grier

Social Media Guru & Digital Influencer

Kevin Tighe II

Co-Founder & CEO at WeBRAND

Will Smith

Actor & Producer Known for "Fresh Prince of Bel-Air,...

Steve Martin

Iconic Actor, Comedian, Author, Playwright & Musician

Wil Wheaton

Actor, Author, Blogger; Plays himself on CBS's "The ...

Omar Epps

Actor Best Known for the Conspiracy Thriller "SHOOTE...

Ed Burns

Actor, Writer, Director, Producer; Author, "Independ...
More like Patrick