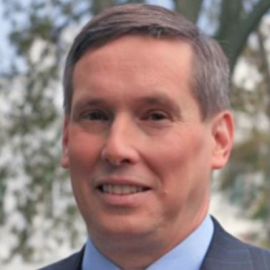 Paul Brandus
White House Correspondent & Award-Winning Author of "Under This Roof: A History of the White House and Presidency"
A frequent speaker at presidential libraries around the United States, social media innovator, columnist and longtime White House correspondent, Paul Brandus is the author of the acclaimed Under This Roof: A History of the White House and Presidency and the upcoming This Day in Presidential History. An award-winning member of the White House press corps since 2008, he is the founder of West Wing Reports, and provides reports for of television and radio outlets around the United States and overseas.
He is also a columnist for USA Today and MarketWatch/Dow Jones. His work has appeared in a wide variety of publications and platforms, such as CNN, Fox News, Real Clear Politics, National Review and The Week. For The Week, he moderated panel discussions in Washington and around the U.S. on topics like cybersecurity, energy and infrastructure. He has spoken at schools such as the Columbia University Graduate School of Journalism and served as Executive-in-Residence at Washington & Lee University.
Brandus's Twitter account is one of the biggest among all accredited members of the White House press corps. In 2011, he won the Shorty Award for "Best Journalist on Twitter," sponsored by the Knight Foundation. His career spans network television, Wall Street and several years as a correspondent based in Moscow, where he covered the collapse of the Soviet Union for NBC Radio and the award-winning business and economics program Marketplace. He has traveled to 53 countries and has reported from, among other places, Iraq, Chechnya, China and Guantanamo Bay, Cuba.
Brandus has served on the Board of Governors of the Overseas Press Club of America, serving as its Washington, D.C. representative. He is also an early stage venture capital investor and as an entrepreneur once purchased the Russian rights to the Super Bowl from the National Football League – becoming the first person to show the championship game in Russia.
Related Speakers View all
---
Guy Benson

Political Editor of Townhall.com & Fox News Contributor

Richard Lui

Anchor of NBC News' "Early Today Show"

Katie Pavlich

Conservative Commentator, Author & Journalist

Sam Stein

Political Editor at The Daily Beast & MSNBC Contributor

Pete Seat

Former White House Spokesman, Author & Political Com...

Laura Ingraham

Political Commentator, Television Host & Journalist

Steve Clemons

Editor-at-Large at The Hill; Former Editor-in-Chief ...

Ben Stein

Political Economist, Commentator, Author & Actor

Katty Kay

Anchor on BBC World News America; Co-Author of "Wome...

Linda Chavez

Conservative Political Commentator, Chairman of the...

Pat Buchanan

Editor, The American Conservative & Panelist on "The...

Jason Chaffetz

Fox News Contributor; Best-Selling Author; Former U....

Holly Bailey

National Correspondent for Yahoo News; Former Newswe...

Joy-Ann Reid

MSNBC Correspondent, Political Author & Former Host ...

Sally Kohn

Founder and CEO of Movement Vision Lab; Liberal Poli...

Meghan McCain

Co-Host of "The View," Political Columnist, Author &...

Kevin Powell

Writer, Humanitarian, President of BK Nation

Rachel Maddow

Host of "The Rachel Maddow Show" on MSNBC

Frank Luntz

Political Pollster & Communication Expert

Morton Kondracke

Political Commentator & Columnist
More like Paul