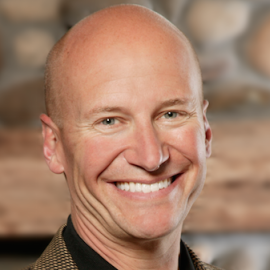 Paul G. Stoltz
Creator of the Adversity Quotient, Expert Speaker on Human and Organizational Performance
Dr. Paul G. Stoltz is the originator of and world's leading expert on the Adversity Quotient (AQ) theory, measure, and methodology. AQ is the most widely adopted method in the world for measuring and strengthening human resilience, currently in use by industry-leading companies across the globe. Dr. Stoltz founded PEAK Learning, Inc., a global research and consulting firm, in 1987.
He coaches, consults, teaches, and collaborates with top leaders, thinkers, and influencers within a broad range of organizations from start ups to NGO's to the Young President's Organization, to the Fortune 100 on six continents. As a sought after presenter and teacher, Dr. Stoltz combines inspiration with application, delivering a compelling and practical message to audiences of 10 to 10,000 people. He remains highly active in the classroom, teaching AQ to groups of all levels and sizes, and has presented in some of the largest venues in the world.
As Director of The Global Resilience Project, Dr. Stoltz oversees a research agenda in seventeen countries dedicated to exploring, expanding, and advancing the applications of AQ to strengthen people and their organizations. His research partners include top thinkers at Yale University, Stanford University, and more than a dozen universities overseas.
Dr. Stoltz was selected by Executive Excellence as "One of the 100 Most Influential Thinkers of Our Time." He is a member of Stanford University's Distinguished Leaders Lecture Series, was selected as the Millennial Thinker for Singapore, "Thought Leader of the Year" in Hong Kong, is an international faculty member for the Young Presidents Organization, and is a frequently sought after resource for the world's top media including CNN, CNBC, Business News Network, NBC Nightly News, Public Broadcast Service (PBS),The Today Show and The Oprah Winfrey Show. You will also frequently find Dr. Stoltz quoted in Wall Street Journal, Harvard Management Update, Investor's Business Daily, Asia 21, Inc., Washington Post, LosAngeles Times, Success Magazine, Entrepreneur Magazine, The Drucker Foundation's prestigious Leader to Leader and other publications.Dr. Stoltz is the international bestselling author of three books, printed in a total of 13 languages, Adversity Quotient: Turning Obstacles into Opportunities, Adversity [email protected], and his newest book, incollaboration with Dr. Stephen Covey, is The Adversity Advantage, co-authored with ErikWeihenmayer—the world's top blind athlete and one of the leading keynote speakers worldwide.
Dr. Stoltz received his bachelor's degree in Organizational Communication and Economics from the University of California, as well as his Master's and Ph.D. in Organizational Communication, Development and Leadership from the University of Minnesota.
His clients include many of the top companies in every industry. PEAK Learning's international headquarters is situated in the coastal mountains of San Luis Obispo, California, where Dr. Stoltz resides with his family, who were honored by USA Today as America's Most Creative Family.
MOST REQUESTED TOPICS:
Thriving on Adversity
It is in the flames of adversity that our character is forged.  His signature keynote address gives a compelling overview of Adversity Quotient® (AQ). He describes how AQ drives performance, resilience, and success, and we discuss how to begin strengthening AQ to thrive on adversity. Highly tailored to each group, participants leave with tools they can use immediately to tackle their next challenge and optimize their next opportunity.
Leading Through Adversity
It is through adversity that leadership shines forth. Demanding times call for leaders with exceptional fortitude, tenacity, and resolve. This keynote address draws from dramatic examples of how great leaders across the ages, world, and industries use AQ to lead through adversity and unleash the greatness in others.
Resilient Sales & Service
Imagine how a more resilient sales and service organization culd drive your results! When it comes to selling, skills and personality are no longer enough. AQ predicts sales performance and retention across industries and countries. This keynote address reveals to sales people and executives what it really takes to achieve and sustain top performance, even in the most difficult circumstances. People gain tools that they can use to surmount their obstacles with renewed focus and vigor.
Creating Resilient Teams
Resilient teams thrive on challenges and deliver superior performance. Resilient teams are at their best when times are tough. They rise to challenges and are inspired by seemingly insurmountable odds and daunting obstacles. They are the ones that get things done when others cannot. This keynote address provides practical insight into what it takes to form and grow a high performance, resilient team.
BOOKS:
The Adversity Advantage - (2006)
Co-author with Stephen Covey & Erik Weihenmayer. (Simon & Schuster)
Adversity Quotient @ Work...Make Everyday Challenges the Key to Your Success
Adversity Quotient ... Turning Obstacles into Opportunities
Dr. Stoltz' landmark book, published in 1997 by John Wiley & Sons, is available at most major bookstores and over the internet.
Videos
---
Speech Topics
---
From Good to Grit.
Setting ambitious goals, taking on tough projects, and pursuing a competitive agenda are both essential and good. But they are no longer enough to win. It takes exceptional Grit. Groundbreaking research reveals tenaciously and relentlessly persevering long after others would give up is what separates the best from the rest. Learn from the world's leading authority on the subject. Discover how you can Gauge and Grow Grit, individually and collectively to fuel your success.
Leadership Grit.
Why do 91 percent of top employers worldwide value Grit in their leaders, over anything else? If your leaders' were measurably more "gritty" how would that affect your organization's results and success? Your group will feast on this scintillating, revelation-loaded session, presenting the newest, groundbreaking research on the role Grit plays in performance, promotion, problem-solving, innovation, agility, resilience, health, and success.
Sales Grit.
If your sales force had measurably greater Grit, how would it affect their results? Discover why Grit is the power ball for superior sales performance, especially in complex, competitive environments. Unearth how the grittiest sales forces and individuals deliver the numbers, time and time again, in spite of all the ways the world may conspire against them. Learn how to Gauge and Grow Sales Grit, for true competitive immunity.
Related Speakers View all
---
Adrian Gostick

Founder of The Culture Works & Bestselling Author of...

Chester Elton

#1 Bestselling Business Author, Organizational Cultu...

Joseph Grenny

New York Times Bestselling Author; Leading Social Sc...

Dr. Kevin Freiberg

World-Wide Best-Selling Author, Speaker & Advisor

Dr. Jackie Freiberg

Corporate Culture & Leadership Strategist, Best-Sell...

Tim Sanders

Bestselling Author, Technology Pioneer, Expert on Co...

Patrick Lencioni

Management Consultant, Founder & President of The Ta...

Shawn Achor

Harvard Professor, Researcher, Positive Psychology E...

Mike Abrashoff

Former Commander of USS Benfold & Author of "It's Yo...

JP Pawliw-Fry

Co-Founder of the Institute for Health and Human Pot...

The Carrot Guys

Sure, they have real names; but they are best known ...

Jack Canfield

Co-Author of "Chicken Soup for the Soul" Series; Pea...

David Allen

Bestselling Author & Founder of The David Allen Company

Garrison Wynn

Comedian & Motivational Business Expert

Howard Putnam

Former CEO of Southwest Airlines

Tom Morris

American Philosopher; Corporate Advisor; Best-Sellin...

Dr. Jack Groppel

Co-Founder of the Johnson & Johnson Human Performanc...

Mark C. Thompson

Executive Coach & Author

Benjamin Zander

Conductor of the Boston Philharmonic Orchestra; Cele...

Vince Poscente

Former Olympic Speed Skier, Best-Selling Author, Lea...
More like Paul