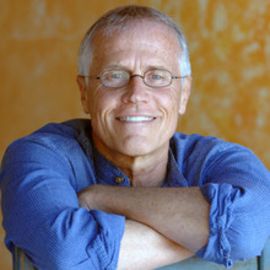 Paul Hawken is known around the world as one of the leading architects and proponents of corporate reform with respect to ecological practices. His writings and work have caused CEOs to transform their internal corporate culture and business philosophy towards environmental restoration.
Hawken is Founder of Project Drawdown, a non-profit dedicated to researching when and how global warming can be reversed. The organization maps and models the scaling of one hundred substantive technological, social, and ecological solutions to global warming.
Hawken has also founded several companies, including Smith & Hawken, Datafusion, a knowledge synthesis software company, and several of the first natural food companies in the U.S that relied solely on sustainable agricultural methods.
Paul Hawken is author to dozens of articles, scientific papers, and eight books including The Next Economy (1983), The Ecology of Commerce (1993), Blessed Unrest (2007), and Drawdown (2017).
The Ecology of Commerce was voted the best college text on business and the environment by professors in 67 business schools in 1998.
His books have been published in over 50 countries in 27 languages. Paul serves as co-chair of The Natural Step-International, a non-profit educational foundation that teaches and supports environmental systems thinking in corporations, cities, and governments.
Videos
---
Speech Topics
---
oceans
planet earth nature change life google water system climate
global
system cities greece mobile growth government china countries euro
food
energy system change fuel audience grain cheap health care
Related Speakers View all
---
Sir Richard Branson

Businessman, Founder of Virgin Group

William McDonough

Renowned Architectural Designer, Advisor & Co-author...

Graham Hill

Founder of Life Edited & TreeHugger.com

Robert Bryce

Energy Expert, Veteran Journalist & Acclaimed Author

Parag Khanna

Leading Geo-Strategist & Author

Van Jones

CNN Political Contributor; Author; Human Rights, Edu...

Peter Diamandis

Founder & Executive Chairman of the XPRIZE Foundatio...

Erin Brockovich

Consumer Advocate, Author, TV Host & Environmental A...

Tristram Stuart

Environmental Campaigner, Author, Businessman

Gary White

CEO & Co-Founder of WaterEquity & Water.org with Mat...

Ted Turner

Media Mogul & Philanthropist

Joseph Stiglitz

American Economist, Professor at Columbia Universit...

Andy Serwer

Managing Editor, Fortune Magazine

Jeremy Rifkin

Leading Global Technologist, Futurist, Authority on ...

Ralph Nader

Former Presidential Candidate for the Green Party, C...

Ray Kurzweil

Chairman of Kurzweil Technologies; Inventor; Futurist

Sylvia Earle

Explorer-in-Residence at National Geographic & Ocean...

Geoff Colvin

Editor & Columnist at Fortune Magazine; Author of "H...

David Crane

Strategic Advisor Executive at Pegasus Capital Advis...

Harvey Wasserman

Journalist, Author, Democracy Activist & Advocate fo...
More like Paul