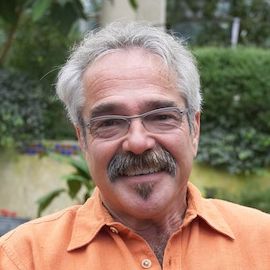 Paul James is a TV gardener from Tulsa, Oklahoma. Known as "The Gardener Guy," he was the host of the HGTV show "Gardening by the Yard" from 1996 to 2009. He was the creator, writer and senior producer and shot almost the entire show in his own backyard.
In the late 1980s, James began doing a gardening segment on a Tulsa CBS station. A few years later he read an article that HGTV was being launched. He called Scripps Howard Broadcasting and asked for a meeting. James was told if he could get to their headquarters they would meet with him. He did and Gardening by the Yard was born.
James' show explored topics familiar to the average home gardener, such as lawn care, growing vegetables, pruning trees, and instilling an interest in gardening in young people, in an informative yet light and irreverent style. Nearly all of his pre-2000 shows were filmed on his Tulsa property, and James produced most of the show's content himself. Later episodes usually included one or more segments by a respected lawn and garden expert and devoted more attention to organic gardening and topics that were more upscale or technical.
In addition to his work on "Gardening by the Yard," James has hosted numerous HGTV specials, including a "Rose Parade," as well as a short-lived cooking show, "Paul James' Homegrown Cooking" that ran from 1998 to 2000.
He can now be found at Southwood Garden Center in Tulsa, Oklahoma where he continues to educate the public about gardening and yard care.
Videos
---
Related Speakers View all
---
Chris Lambton

Lifestyle Expert; Media Personality; "Bachelorette" ...

Jamie Durie

Host of HGTV's "The Outdoor Room"; Award-Winning Des...

Ahmed Hassan

Celebrity Landscaper & TV Host of DIY's Yard Crasher...

Michael Weishan

Host of "Garden Earth" and "The Victory Garden" on PBS

Karen Strohbeen

The Perennial Gardener with Karen Strohbeen, PBS

Josh Schneider

Gardening Expert and the Host of "First Time Gardene...

Joe Lamp'l

Executive Producer and Host of "Growing a Greener Wo...

Rebecca Kolls

Former Host of "Rebecca's Garden" on HGTV; Director ...

Rick Kaldrovics

Founder of Outside Landscape Group, Former Host of "...

Roger Cook

Landscape Contractor on "This Old House" on PBS

Joanie Sprague

Host of TLC's "Trading Spaces"; Former Runner-Up on ...

Leanne Ford

Interior Designer; HGTV Personality

Steven Dyme

Co-Founder & CEO of Flowers for Dreams

Gregg Weisstein

Co-Founder & Chief Operating Officer; Bloomnation

James Wong

Ethnobotanist, Television Presenter and Garden Designer

Frances Tophill

Gardening Professional and Presenter on "Love Your G...

Alan Titchmarsh

World Renown Gardening Expert; Author; TV Host

Kelly D Norris

Kelly Norris is a 20-something rising-star horticult...

Chip Wade

Expert Craftsman; Celebrity Designer; HGTV Host

Matt Blashaw

Licensed Contractor & Realtor; Host of HGTV and DIY ...
More like Paul