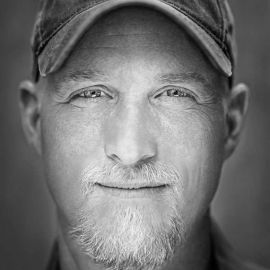 Paul Nicklen is a Canadian photographer, filmmaker, and marine biologist who has documented the beauty and the plight of our planet for over twenty years. As an assignment photographer for National Geographic magazine, Nicklen captures the imagination of a global audience.
Nicklen is uniquely qualified to create his brand of documentary photography which informs and creates an emotional connection with wild subjects in extreme conditions. His work delivers audiences to an underwater realm witnessed by few. Nicklen's sensitive and evocative imagery has garnered over 30 of the highest awards given to any photographer in his field, including the BBC Wildlife Photographer of the Year and the prestigious World Press Photo for Photojournalism.
He is equally recognized by the conservation community for his outspoken work, and has been awarded the Natural Resources Defense Council BioGems Visionary Award. Most recently, Nicklen was bestowed an honorary PhD at the University of Victoria, for the impact his photography has had on climate change.
In addition to being one of the world's most acclaimed nature photographers, Nicklen is a sought-after speaker, a TED Talks legend, an author, and National Geographic Fellow. In the past two decades, Paul has collaborated with scientists, filmmakers, conservationists and explorers to create awareness and inspire action for global issues like climate change.
As a co-founder of the non-profit, SeaLegacy, Paul Nicklen is opening a fresh, progressive chapter in the story of ocean conservation. Through visual storytelling, Sea Legacy inspires millions of people to stand up and have a voice for the pristine places threatened by climate change.
Videos
---
Speech Topics
---
Polar Obsession
Acting as a personal guide, Nicklen takes audiences to the vast polar regions of our planet. His unique and very personal perspective on some of Earth's most beautiful and remote environments make him an inspiring advocate for the icy corners of our planet. With his trademark humor, passion, and optimism, Nicklen shares the stories of his work capturing images of life in fragile, frozen ecosystems.
Into the Icy Realms
In his signature presentation, Nicklen shares some of his most unforgettable experiences while photographing on assignment for National Geographic magazine. He shares his humorous perspective on the incredible challenges he faces in order to deliver the kind of images National Geographic demands of its best photographers. From narwhals, walruses, and bowhead whales in the Arctic to leopard seals and emperor penguins in the Antarctic, Nicklen's emotional portrayal of his most humbling, electrifying, and satisfying wildlife encounters leaves audiences longing for their very own plunge into the icy seas.
From Pole to Pole
Join Paul Nicklen on a photographic journey from the far reaches of the Arctic all the way to the icy waters of Antarctica and everything in between. This presentation includes work done while on assignment for National Geographic magazine that has taken the photographer into Maya underwater gravesites in the Yucatán Peninsula and into the realm of the majestic sailfish in the Mexican Caribbean. This is an unforgettable and colorful presentation brought to life with multimedia and evocative time-lapse photography.