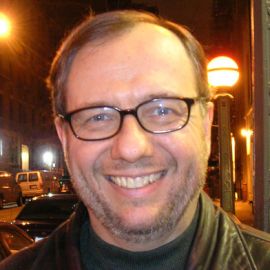 Paul Raeburn
Journalist & Author of "Do Fathers Matter?"; Past President of the National Association of Science Writers & Former Chief Science Correspondent at the Associated Press
Paul Raeburn is a journalist and the author of five books, including The Game Theorist's Guide to Parenting. He's written for many magazines and websites, including The New York Times Magazine, Discover, Scientific American, and The Huffington Post. He's currently writing a column on media for the web magazine Undark.org and contributing regularly to MedPage Today.
Paul spent 15 years as the science editor and chief science correspondent at the Associated Press, and seven as a senior editor and writer at BusinessWeek. He was the creator and host of Innovations in Medicine and The Washington Health Report on XM satellite radio, and a commentator for NPR's Morning Edition. And he is a past president of the National Association of Science Writers.
His books include Acquainted with the Night, a memoir of raising children with depression and bipolar disorder, and Mars, published by the National Geographic Society.
A native of Detroit, Paul now lives in New York City with his wife, the writer Elizabeth DeVita-Raeburn, and their two children.