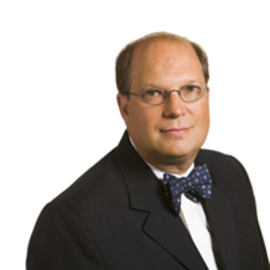 Paul Rosenzweig
Paul Rosenzweig, who helped craft policy and strategy inside the Department of Homeland Security, brings that experience back to The Heritage Foundation as a visiting fellow.
Rosenzweig understands the vision behind the nation's homeland security policy since the 2001 terror attacks, as well as the implications for America's international partners. He is the founder of Washington, D.C.-based Red Branch Consulting PLLC, which provides legal and strategic advice on national security and privacy concerns to individuals, companies and governments. From 2002 to 2005, Rosenzweig was senior legal research fellow in Heritage's Center for Legal and Judicial Studies, where his specialties included civil liberties, national security and criminal law. He then served as deputy assistant secretary for policy in the Department of Homeland Security and as acting assistant secretary for international affairs. In four years at DHS, he developed policy, strategic plans and global approaches to homeland security, ranging from immigration and border security to avian flu and international rules for data protection. He became a visiting fellow at Heritage in 2010. Rosenzweig is the coauthor, with Heritage defense and national security expert James Jay Carafano, of the 2005 book Winning the Long War: Lessons from the Cold War for Defeating Terrorism and Preserving Freedom. He also edited, with Heritage's Brian Walsh, his successor as senior research fellow, the 2010 book One Nation Under Arrest: How Crazy Laws, Rogue Prosecutors and Activist Judges Threaten Your Liberty. He is a senior editor for Journal of National Security Law & Policy and a professorial lecturer in law at the George Washington University School of Law in Washington, D.C. Rosenzweig is a cum laude graduate of the University of Chicago Law School. He received his master's degree in chemical oceanography from Scripps Institution of Oceanography, University of California at San Diego, and his bachelor of arts degree from Haverford College.
Related Speakers View all
---
Ray Walser, Ph.D.

Senior Policy Analyst.

Charles "Cully" Stimson

Chief of Staff and Senior Legal Fellow.

Jack Spencer

Senior Research Fellow, Nuclear Energy Policy.

James Sherk

Senior Policy Analyst in Labor Economics.

Derek Scissors, Ph.D.

Senior Research Fellow.

Brett D. Schaefer

Jay Kingham Fellow in International Regulatory Affairs.

James M. Roberts

Research Fellow For Economic Freedom and Growth.

James Phillips

Senior Research Fellow for Middle Eastern Affairs.

David B. Muhlhausen, Ph.D.

Research Fellow in Empirical Policy Analysis.

Derrick Morgan

Vice President, Domestic & Economic Policy.

Robert E. Moffit, Ph.D.

Robert E. Moffit, a seasoned veteran of more than th...

Ambassador Terry Miller

Director, Center for International Trade and Economi...

Ken McIntyre

Marilyn and Fred Guardabassi Fellow in Media and Pub...

Matt A. Mayer

Visiting Fellow.

Walter Lohman

Director, Asian Studies Center

Paul Larkin

Senior Legal Research Fellow

David W. Kreutzer, Ph.D.

Research Fellow in Energy Economics and Climate Change.

Patrick Louis Knudsen

Grover M. Hermann Senior Fellow in Federal Budgetary...

Bruce Klingner

Senior Research Fellow, Northeast Asia.

Daniel H. Johnson, Jr., M.D.

Daniel H. Johnson, Jr., M.D., is a practicing diagno...
More like Paul