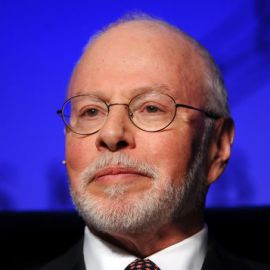 Paul Singer
Founder & President of the Elliott Management Corporation; Global Innovator & LGBT Equality Advocate
Paul E. Singer is president of Elliott Management Corporation, a trading firm he founded in 1977, and co-founder of Start-Up Nation Central, an organization committed to solving global problems through deepening ties between Israel's start-up ecosystem and the global innovation economy.
In his philanthropic activities, he has played a leadership role in supporting research and scholars in the areas of free-market economics, rule of law and transparency, health care delivery innovation, US national security, and the future of Israel. Singer is also recognized for his advocacy for LGBT equality causes. He is on the board of Harvard Medical School and is chairman of The Manhattan Institute for Policy Research.
Videos
---
News
---
Paul Singer In Q3 Letter Warns Of Growing Dangers To Economy
Paul Singer's Elliott Management happens to be one of the few big hedge funds that's seeing attractive opportunities and is beefing up its capital to stay ready. In the latest quarterly letter, which was obtained by ValueWalk, the fund notes:..