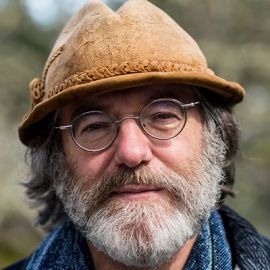 Paul Stamets
Mycologist, Founder of Fungi Perfecti & Author of "Mycelium Running: How Mushrooms Can Help Save the World "
Paul Stamets is a speaker, author, mycologist, medical researcher and entrepreneur.He is the founder and owner of Fungi Perfecti, LLC, makers of the Host Defense Mushrooms (www.hostdefense.com) supplement line.
Stamets is considered an intellectual and industry leader in fungi: habitat, medicinal use, and production. He lectures extensively to deepen the understanding and respect for the organisms that literally exist under every footstep taken on this path of life.
His presentations cover a range of mushroom species and research showing how mushrooms can help the health of people and planet. His central premise is that habitats have immune systems, just like people, and mushrooms are cellular bridges between the two. Our close evolutionary relationship to fungi can be the basis for novel pairings in the microbiome that lead to greater sustainability and immune enhancement.
Stamets's philosophy is that "MycoDiversity is BioSecurity." He sees the ancient Old Growth forests of the Pacific Northwest as a resource of incalculable value, especially in terms of its fungal genome. A dedicated hiker and explorer, his passion is to preserve and protect as many ancestral strains of mushrooms as possible from these pristine woodlands. His research is considered breakthrough by thought leaders for creating a paradigm shift for helping ecosystems worldwide.
He is the author of six books, including Mycelium Running: How Mushrooms Can Help Save The World, Growing Gourmet and Medicinal Mushrooms, and Psilocybin Mushrooms of the World, he has discovered and named numerous new species of psilocybin mushroom.
Related Speakers View all
---
Peter Diamandis

Founder & Executive Chairman of the XPRIZE Foundatio...

Sir Richard Branson

Businessman, Founder of Virgin Group

Ray Kurzweil

Chairman of Kurzweil Technologies; Inventor; Futurist

John Mackey

Co-Founder & CEO, Whole Foods Market

Biz Stone

Co-Founder of Twitter

Tim O'Reilly

Founder and CEO, O'Reilly Media

Dave Asprey

Founder of Bulletproof, Father of Biohacking & NYT B...

Read Montague

An American neuroscientist and popular science autho...

Seth Berkley

CEO of Gavi, the Vaccine Alliance; Medical Doctor Sp...

Shawn Achor

Harvard Professor, Researcher & Positive Psychology ...

Amory Lovins

Co-Founder & Chairman Emeritus of Rocky Mountain Ins...

Daniel Kraft, M.D.

Physician-Scientist; Founder of Exponential Medicine...

Dean Kamen

Inventor and Entrepreneur; President, DEKA Research ...

Dr. Michio Kaku

World-Renowned Futurist & Theoretical Physicist

Aubrey de Grey

Biomedical Gerontologist; Chief Science Officer of S...

Dan Ariely

Behavioral Economist; Professor at Duke University; ...

David Agus

Professor of Medicine and Engineering at the Univers...

George Church

Professor of Genetics, Harvard Medical School & Dire...

Tal Golesworthy

Tal Golesworthy is an engineer and entrepreneur, wor...

Keller Rinaudo

Co-founder and CEO of Zipline
More like Paul