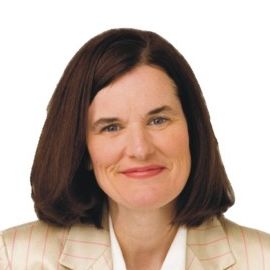 Paula Poundstone
Stand-Up Comedian, Television Personality and Panelist on NPR's "Wait Wait...Don't Tell Me"
Appearing on stage with a stool, a microphone, and a can of Diet Pepsi, Paula Poundstone is famous for her razor-sharp wit and spontaneity. The Boston Globe said, "Poundstone improvises with a crowd like a Jazz musician…swinging in unexpected directions without a plan, without a net." Paula is so quick and unassuming that audience members at her live shows often leave complaining that their cheeks hurt from laughter and debating whether the random people she talked to were "plants."
Paula grew up in Sudbury, Massachusetts and by the time she was 19 was traveling on a Greyhound bus across the country -- stopping in at open mic nights at comedy clubs as she went. She credits her kindergarten teacher, Mrs. Bump, with being the first one to spot her comedic talents. Bump wrote in a letter to Paula's parents: "I have enjoyed many of Paula's humorous comments about our activities."
In 1979 Paula began nurturing her standup comedy talent as part of the Boston comedy scene, and then moved to San Francisco where she continued to flourish. By 1990 she'd relocated to Los Angeles and had starred in several comedy specials for HBO, as well as appeared on "Saturday Night Live" when friend and mentor Robin Williams hosted the show.
Paula's first one-hour HBO special, "Cats, Cops, and Stuff." made her the first woman to ever receive the Cable ACE for best standup comedy special. She also starred in a self-titled talk show series for HBO (for which she won her second Cable ACE Award for Best Program Interviewer, beating out other, more recognized names in that field.)
In 1992, Poundstone forsook what she considered the 'staid' 5-minute standup set on late night talk-shows for something she thought would be more real with the audience and filed memorable field commentary of the Presidential Election for the "Tonight Show with Jay Leno." This led to her own show on ABC, aptly named, "The Paula Poundstone Show," and behind-the-scenes coverage of that year's EMMY Awards for which she was critically acclaimed. During this time, she also became the first woman to perform at the White House Correspondents dinner.
By the mid-90's, Poundstone had shifted her performances from comedy clubs to performing arts centers and theatres where her interactions with the crowd became the stuff of legend. In 1996, Paula taped her second hour special for HBO, "Paula Poundstone Goes to Harvard," -- the first time that elite university has ever allowed it's name to be used in the title of a television show.
Paula's off-kilter sensibility and impeccable timing made her a perfect fit for NPR's "oddly informative" weekly news quiz program, "Wait Wait…Don't Tell Me," which she joined as a regular panelist.
It took Paula eight years to write her first book, "There's Nothing In This Book That I Meant To Say." Part memoir, part monologue, Paula's unique laugh-out-loud book features biographies of legendary historical figures including Abraham Lincoln, Joan of Arc and Sitting Bull, among others, from which she can't help digressing to tell her own.
In 2007 BRAVO premiered Paula's standup comedy special: "Paula Poundstone: Look What the Cat Dragged In." Other credits include: Frequent appearances on Garrison Keillor's "A Prairie Home Companion;" Voice of Judge Stone on ABC's Saturday Morning "Science Court" aka "Squigglevision," and "Paula," the mom in Cartoon Network's "Home Movies." Paula has made numerous appearances on "Late Night with David Letterman," "Sesame Street," "To Tell The Truth" and "Comic Relief."
Paula won an EMMY Award for her field pieces on PBS's "Life & Times," and is also the author, along with her high school math teacher, Faye Ruopp, of three math text books for children. For five years, she wrote a back-page column in Mother Jones.
In 2009 Paula released her first comedy CD, "I HEART JOKES: Paula Tells Them In Maine."
Paula continues as the National Spokesperson for (ALTAFF), The Association of Library Trustees Advocates Friends & Foundations, a national network of enthusiastic library supporters who believe in the importance of libraries as the social and intellectual centers of communities and campuses. Paula is supporting libraries on a local level by partnering with promoters and the local Friends organization in cities where she performs.
Paula began fostering children in the early 1990s, and went on to become a parent to three children of her own, Toshia, 18, Allison, 15, and Thomas E., 12. The family lives in Santa Monica, California.
Speech Topics
---
There's Nothing in This Book That I Meant to Say
An Evening with Paula Poundstone
Related Speakers View all
---
Bill Hader

Actor, Comedian, Writer, Producer, Director, Known f...

Laraine Newman

Laraine Newman is a comedienne, actress, and writer,...

Loretta LaRoche

Author, Humorist, Stress Expert & TV Personality

Julia Sweeney

Former SNL Cast Member & Cancer Survivor

Amy Poehler

Comedian, Writer, Producer & Actress Best-Known For ...

Joy Behar

Comedian, Actress & Former Co-Host of "The View"

Brad Montgomery

Humorist, Motivational Speaker, Publisher & Author

Steve Kissell

Speaker and Humorist

Steve Rizzo

Hall of Fame Motivational Business Expert & Former N...

Karyn Ruth White

Comedic Motivational Speaker; Stress-Reduction Throu...

Jimmy Tingle

Stand-up Comedian & Outspoken Social Commentator

Dr. Shelley Sykes

The Happiness Guru

Jon Stewart

Talk Show Host, Comedian & Producer

Ben Stein

Political Economist, Commentator, Author & Actor

Ross Shafer

Six-Time Emmy Award-Winning Comedian, TV Host & Best...

Caroline Rhea

Stand-up Comedian, Actress & Television Host

Vicki Lawrence

Actress, Comedian & Women's Activist; Best Known for...

Lola Gillebaard

Lola Gillebaard is an exceptional entertainer with s...

Juliet Funt

Founder, Owner & CEO of WhiteSpace at Work

David Feherty

Golf Commentator on NBC Sports, TV Host, Bestselling...
More like Paula