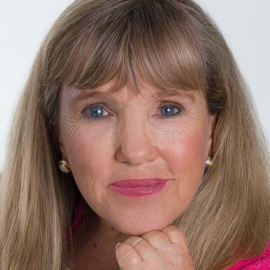 Peggy O'Neill is an award-winning keynote speaker; a Resiliency Expert and an Inclusion and Empowerment Strategist. Over the past 15 years, she has been working as a corporate diversity trainer, keynote speaker, coach, and is the author of 6 books. Her message continues to inspire delivering powerful positive change in corporations and in women's groups across the US with her unforgettable, dynamic, and humorous keynote speeches and trainings.
She weaves together the wisdom from her three certifications in psychotherapy with the insights from grappling with and overcoming many challenges to inform, elevate and inspire audience members to up-level their skills in resiliency, inclusion, empathy, conflict resolution, and personal empowerment.
Featured on the cover of Speaker Magazine, she is also a contributing teacher in the films The Opus, and Tapping the Source. Additionally, she has inspired over 100,000 young students, offering anti-bullying and self-esteem programs.
Happily, Peggy O'Niell brings real solutions to audience members and their hosting organizations. She celebrates her daily life in Ojai, CA, a small town just around the corner from Santa Barbara.
Videos
---
Speech Topics
---
Building Resiliency to Increase Productivity
Walking Tall: Heightening Confidence, Resiliency & Optimism Amid Adversity
Stand UP! Step UP! Speak UP! Empowering yourself to be heard and respected
Empathy – Your Next Superpower
Resolving Conflict with Ease: The Gift of Non-Violent Communication
Related Speakers View all
---
Michelle Barr

Business Coach and Mindset Mentor

Mark Jeffries

Communication Consultant, Presentation Coach, Emcee ...

Steve Gutzler

Steve Gutzler is one of the nation's premier thought...

Dru Babcock

Speaker, Best-Selling Author, Business Coach, Athlet...

Joseph Irons

Speaking nationally and Internationally on motivatin...

Sheldon Yellen

CEO, BELFOR

Mark C. Thompson

Executive Coach & Author

René Carayol

CEO of Inspired Leaders Network & Author of "Spike"

Mark Sanborn

Leadership, Teamwork & Performance Expert; New York ...

Erik Wahl

Internationally Recognized Graffiti Artist, Entrepre...

Robert Stevenson

Business Speaker & Author of "How to Soar Like An Ea...

Tim Sanders

Bestselling Author, Technology Pioneer, Expert on Co...

Howard Putnam

Former CEO of Southwest Airlines

Vince Poscente

Former Olympic Speed Skier, Best-Selling Author, Lea...

Don Peppers

Marketing and Sales Futurist; Customer Experience Th...

Eileen McDargh, CSP, CPAE

Healthcare Consultant & Author of "The Resilent Spirit"

Patrick Lencioni

Management Consultant, Founder & President of The Ta...

Dr. Jack Groppel

Co-Founder of the Johnson & Johnson Human Performanc...

Steve Gilliland

Renowned Business & Motivational Leader; Award-Winni...

Libby Gill

Leadership Expert, Executive Coach & Award-Winning A...
More like Peggy