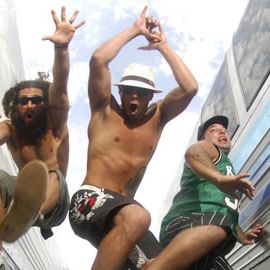 Pepper, comprised of guitarist/vocalist Kaleo Wassman, bassist/vocalist Bret Bollinger and drummer Yesod Williams, formed in Kailua-Kona on the Big Island of Hawaii in 1997. Having grown up surfing on the island, it's not a wonder that they would mix their rock "shock and ah" flare, along with their mellow island rhythm roots to create their own truly diverse sound. They have also been known to hypnotize fans of all walks of life with their incredibly sweet harmonies all the while keeping bodies moving on the dance floor. The trio played mostly house parties and garages before finally shipping out to San Diego, CA in 1999 to push their first studio release Give'n It.
In 2001, they entered the Volcom warehouse studio with Steve Kravac (Blink 182, Less Than Jake, MxPx) to record Kona Town, which included the hit single "Give it Up (Dirty Hot Sex)" – which has become one of KROQ's most played songs to date. On the heels of that success, Pepper retreated into The Hive, a completely analog studio and home of 311, with legendary producer Ron "The Saint" St. Germain (Bad Brains, Living Colour, 311, Tool, Sonic Youth, Soundgarden) to record In With the Old.
Pepper released a new album in 2008, Pink Crustaceans and Good Vibrations. The band also released 2013's eponymous Pepper and 2016's Ohana, both on their own label, Law Records.
Videos
---