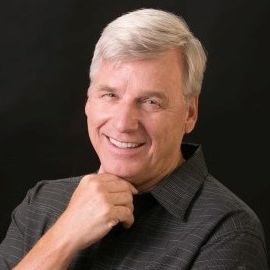 Pete Earley
Journalist & Author of "CRAZY: A Father's Search Through America's Mental Health Madness"
Pete Earley is a storyteller who has penned 15 books including the New York Times bestseller The Hot House and the 2007 Pulitzer Prize finalist Crazy: A Father's Search Through America's Mental Health Madness.
After a 14-year career in journalism, including six years at The Washington Post, Pete became a full-time author with a commitment to exposing the stories that entertain and surprise.
His honest reporting and compelling writing helped him garner success as one of the few authors with "the power to introduce new ideas and give them currency," according to Washingtonian magazine.
When Pete's life was turned upside down by the events recounted in his book Crazy, he joined the National Alliance on Mental Illness to advocate for strong mental health reform on the public stage.
This new advocacy has taken him to 48 different states and multiple countries around the globe where he delivers speeches to rally against the troubled mental health systems and for the mentally ill.
Videos
---
Speech Topics
---
"Minds on the Edge" Program – Minds on the Edge is an hour-long, Fred Friendly program that explores our current mental health and legal system. After showing the PBS broadcast, Pete will lead a discussion with your local officials to discuss how the issues in the broadcast are being addressed in your area.
Inside A Traitor's Mind – Pete is the only journalist to have interviewed two of our nation's most notorious traitors – John Walker Jr., head of the 1980s Family of Spies espionage ring; and Aldrich Ames, the CIA turncoat who paralyzed U.S. intelligence in Moscow during the height of the Cold War. He is also the biographer of the late Sergei Tretyakov, the highest-ranking Russian intelligence officer ever to defect to our side. Pete describes why Walker and Ames betrayed America and how their treachery differed from Russia's top Judas in this true-life spy speech.
Hopeless No More is intended as a follow-up talk to groups that already have heard CRAZY. Pete describes successful recovery programs that he has visited during his travels including, Housing First, ACT teams, Crisis Intervention Training, Mental Health Courts and Peer to Peer support.
CRAZY: A Father's Search Through America's Mental Health Madness describes Pete's attempts to help his son, Mike, after he is denied treatment during a psychotic break and is arrested. Pete explains why jails and prisons have become our new asylums, why this is wrong and what we need to do to turn mental health back into a health issue instead of continuing to make it a criminal justice problem.
Related Speakers View all
---
Scott Stossel

Editor of The Atlantic; NY Times Best-Selling Author...

Kevin Hines

Brain Health Advocate & Storyteller

Tom Voss

U.S. Army Combat Veteran, Mental Health & Holistic H...

Eleanor Longden

Mental Health Advocate & Speaker; Postdoctoral Servi...

Mike Veny

Mental Health Speaker & Drumming Workshop Facilitator

Tanya Brown

Mental Health & Domestic Violence Prevention Advocate

Ginger Zee

Chief Meteorologist for ABC News, Author & Mental He...

Catherine Garceau

Olympic Bronze Medalist & Author of "Swimming Out of...

Maurice Clarett

College Football National Champion, Philanthropist &...

Dr. Christian Conte

Nationally Acclaimed Mental Health Specialist

Helen M. Farrell

Award-Winning Harvard Psychiatrist, TEDx Speaker & W...

Kevin Briggs

Golden Gate Guardian, International Crisis Managemen...

Mark Ballas

Dancing with the Stars Champion & Mental Health Acti...

Lorna Luft

Entertainer & Author of "Me and My Shadows: A Family...

Nicole Hockley

Managing Director at Sandy Hook Promise; Gun Control...

Clint Malarchuk

Former NHL Goalie, NHL Coach, Suicide Survivor & Men...

Sam Quinones

Journalist & Author of "Dreamland: The True Tale of ...

Andrea Paquette

Mental Health Advocate, Founder & President of the S...

Ricky Williams

Former NFL Running Back, Heisman Trophy Winner & Men...

Shawn Johnson East

Olympic Gold Medalist in Gymnastics, "Dancing with t...
More like Pete