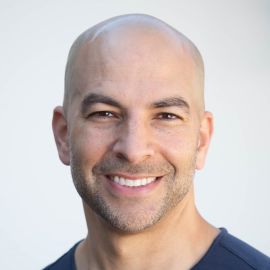 Peter Attia
Leading Figure in the Fight Against Diabetes and Obesity; Founder, Attia Medical, PC; Co-Founder & Chief Medical Officer, Zero App
The world is battling an increasingly dire obesity epidemic, but Peter Attia, MD believes we may be fighting the wrong war. Driven by personal experiences, he is leading the fight to better understand the cause of obesity and diabetes – and along the way, challenging all we've been taught about the interaction of health, human performance and medicine.
Peter Attia is the founder of Attia Medical, PC, a medical practice with offices in San Diego and New York City, focusing on the applied science of longevity. He is the co-founder and Chief Medical Officer of the fasting app Zero.
Attia Medical applies nutritional biochemistry, exercise physiology, sleep physiology, techniques to increase distress tolerance, lipidology, pharmacology, and four-system endocrinology to increase lifespan (delaying the onset of chronic disease), while simultaneously improving healthspan (quality of life).
Attia trained for five years at the Johns Hopkins Hospital in general surgery, where he was the recipient of several prestigious awards, including resident of the year, and the author of a comprehensive review of general surgery. He also spent two years at NIH as a surgical oncology fellow at the National Cancer Institute where his research focused on immune-based therapies for melanoma. He has since been mentored by some of the most experienced and innovative lipidologists, endocrinologists, gynecologists, sleep physiologists, and longevity scientists in the United States and Canada.
Attia also hosts "The Peter Attia Drive" Podcast in which he does deep-dive interviews with prominent minds across various fields, primarily medicine, in an effort to spread awareness about longevity and improvements in health-span
He earned his M.D. from Stanford University and holds a BS in mechanical engineering and applied mathematics. He is licensed in California and New York.
Videos
---
Speech Topics
---
The Eating Academy: How to Eat Healthy & Lose Weight
Cancer: Therapies & Regression
Related Speakers View all
---
Dr. Mehmet Oz

Cardiothoracic Surgeon; Host of "The Dr. Oz Show;" C...

Dariush Mozaffarian

Cardiologist; Dean and Jean Mayer Professor at the F...

Toby Cosgrove

Former CEO & President at Cleveland Clinic

Dr. Dean Ornish

Physician, Leading Researcher in Healthcare, Founder...

Bob Harper

Personal Trainer & Former Host of "The Biggest Loser...

Dr. Ian Smith

Doctor, New York Times Bestselling Author, Medical C...

Philip Schauer, MD

Professor of Metabolic Surgery; Director of Bariatri...

Tisha Rowe

Family Medicine Physician; Entrepreneur

Dr. Nadine Burke Harris

Surgeon General of California; Co-Founder and Former...

Tal Golesworthy

Tal Golesworthy is an engineer and entrepreneur, wor...

Andres Lozano

The chair of neurosurgery at the University of Toron...

Dr. Joel Selanikio

Award-Winning Physician, Health & Technology Activis...

Giovanni Colella

Co-Founder & CEO at Castlight Health

Bud Frazier

Director, Cardiovascular Surgery Research, Texas Hea...

Deepak Chopra

Co-Founder of The Chopra Center for Wellbeing

Dr. Francis Collins

Director of the National Institutes of Health (NIH)

Randy Jackson

Music Producer, Former American Idol Judge, Author &...

Griffin P. Rodgers

Director of the National Institute of Diabetes & Dig...

Dr. Mark Jabro

Physician & Director for the Center for Health Manag...

Dr. Carol Addy

Endocrinologist, Expert on Diabetes and Obesity & Ch...
More like Peter