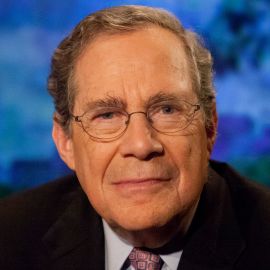 As his latest book's title—So Rich, So Poor: Why It's So Hard to End Poverty in America—indicates, Peter Edelman is a lifelong antipoverty advocate. Currently a professor of law at Georgetown University Law Center where he teaches constitutional and poverty law, Edelman was a top advisor to Senator Robert F. Kennedy, Issues Director for Senator Edward Kennedy's 1980 campaign, and a member of President Bill Clinton's Administration. Prior to working for RFK, he clerked for Supreme Court Justice Arthur J. Goldberg and for Judge Henry J. Friendly on the US Court of Appeals, served as special assistant to US Assistant Attorney General John Douglas, and was a partner in the law firm of Foley & Lardner.
In So Rich, So Poor, Edelman outlines why the income-level disparity in the US is now wider than at any point since the Great Depression and delves into what is happening to the people behind the statistics. His previous books include Searching for America's Heart: RFK and the Renewal of Hope and Reconnecting Disadvantaged Young Men, which he co-authored. His article in the Atlantic Monthly, entitled "The Worst Thing Bill Clinton Has Done," received the Harry Chapin Media Award.
He has received numerous honors and awards for his work, including the William J. Brennan Jr. Award from the DC Bar in 2005, and has been a United States-Japan Leadership Program Fellow as well as the J. Skelly Wright Memorial Fellow at Yale Law School.
With a clear, commanding voice, Edelman earnestly champions assistance to children and single moms in need and laments the steady disappearance of welfare in the US. A strong supporter of the Occupy Movement, he states that "the idea of the one percent and the 99 percent all fits together. We really should be all one country."
Professor Edelman has chaired and been a board member of numerous organizations and foundations. He is currently chair of the District of Columbia Access to Justice Commission and is board chair of the American Constitution Society, the Public Welfare Foundation, and the National Center for Youth Law. He received his BA from Harvard College and his MA from Harvard Law School.
Speech Topics
---
So Rich, So Poor: Why It's So Hard to End Poverty in America
Poverty, Homelessness & the Law
A Unique Look into Constitutional Law