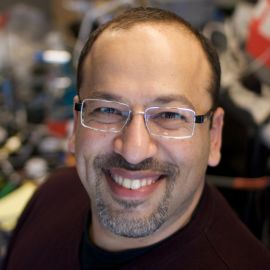 Peter Girguis
Associate Professor of Natural Sciences at Harvard; Adjunct Research Engineer at the Monterey Bay Aquarium Research Institute
Peter Girguis is currently a John L. Loeb Associate Professor of Natural Sciences at Harvard University and an Adjunct Research Engineer at the Monterey Bay Aquarium Research Institute.
His research focuses on the ecological physiology of microbes that live in extreme environments, to better understand the role they play in mediating deep ocean carbon and nitrogen cycling.
He is particularly interested in the physiological and biochemical adaptations (adaptive traits) to life in anaerobic environments. His research lies at the intersection of biology and geochemistry, and he develops and uses a variety of tools (high-pressure systems to mimic natural environments, in situ mass spectrometers, in situ microbial fuel cells) to address the aforementioned issues.
He received his B.Sc. from UCLA, where he also worked with Drs. David Chapman and William Hamner. He received his Ph.D. from the University of California Santa Barbara, where he worked with Dr. James Childress on the physiological and biochemical adaptation of deep sea hydrothermal vent tubeworms and their microbial symbionts to the vent environment. He did postdoctoral research at the Monterey Bay Aquarium Research Institute with Dr. Edward Delong on the growth and population dynamics of anaerobic methanotrophs.
Related Speakers View all
---
Louis-Philippe Loncke

European Adventurer 2016, Explorer, Motivational Spe...

Kanya Balakrishna

Co-Founder & CEO of The Future Project

Stanley J. Reynolds

Your audience will enjoy a new innovative approach f...

Michael Archer

Paleontologist Michael Archer is working to bring ba...

Alfred Poor

America's Success Mentor for Young Employees

Igor Beuker

World Authority on Marketing and Media

Paul Robinson

Author to 14 works in Human potential growth & Manag...

Somto Okeke Charles

Somto Okeke Charles is a vibrant & innovative young ...

Keith Smith

Male Rape Survivor; Speaker on the Topic of Childhoo...

Tracy Lewis

Christian Author, Speaker, and Teacher

Fredrik Haren

Idea Generation • Creativity • Innovation • Vision •...

Svetlana Kim

Speaker, Radio Talk Show Host, Author, Certified Hyp...

Laura Snyder

Professor; Science Historian; Philosopher; Author of...

Danny Mekić

Technology Expert, and "most successful Dutch young ...

Nicholas Burns

Professor of the Practice of Diplomacy & Internation...

Ryan Sallans

International Transgender Speaker, Consultant & Author

Dr. Hendrik Poinar

Evolutionary Biologist Specializing in Ancient DNA

Marla Spivak

Marla Spivak is an entomologist who is developing pr...

David Sengeh

Chief Innovation Officer, Government of Sierra Leone

Salt-N-Pepa

Grammy Award-Winning Hip-Hop & Rap Girl Group Known ...
More like Peter