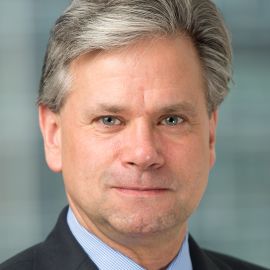 Peter Goettler
President & CEO of the Cato Institute
Peter Goettler is president and CEO of the Cato Institute. He previously served as managing director and head of Investment Banking and Debt Capital Markets, Americas, at Barclays Capital, the investment banking division of Barclays Bank, PLC, before retiring in 2008. He was chief executive officer for the firm's businesses in Latin America and head of Global Loans and Global Leveraged Finance. Goettler has served on the board of the New York City-Southern New York chapter of the National Multiple Sclerosis Society since 2008, and chaired the board for the last two years. He also serves on the board of the Atlas Network.
Goettler is a graduate of the Massachusetts Institute of Technology, where he received both his bachelor's and master's degrees in management, concentrating in applied economics, finance, and marketing.
Videos
---
Related Speakers View all
---
Daniel R. Pearson

Senior Fellow, Trade Policy Studies at Cato Institute

Patrick G. Eddington

Policy Analyst, Homeland Security and Civil Liberties

Tom G. Palmer

Senior Fellow and Director of Cato University

Juan Carlos Hidalgo

Policy Analyst, Latin America

Amanda Nguyen

President & Founder of Rise; Drafted the Sexual Assa...

Brad Stapleton

Visiting Research Fellow at Cato Institute

Frank Lavin

CEO and Founder, Export Now

K. William Watson

Trade Policy Analyst, Herbert A. Stiefel Center for ...

Chris Edwards

Director of Tax Policy Studies at the Cato Institute

Thomas A. Firey

Managing Editor, Regulation; Cato Senior Editor

Marian L. Tupy

Policy Analyst, Center for Global Liberty and Prospe...

David Boaz

Executive Vice President, Cato

Yaniv Barzilai

Counterterrorism Policy Advisor for North Africa, U....

Ray Tadgerson

Former CEO and President of Capital Consultants, Co-...

Wayne R. LaPierre

Executive vice president and CEO of the National Rif...

George Selgin

Senior Fellow and Director of the Center for Monetar...

Matthew Feeney

Policy Analyst at the Cato Institute

Adam Bates

Policy Analyst, Cato's Project on Criminal Justice

Emma Ashford

Visiting Research Fellow, CATO Institute

Doug Lute

President, Cambridge Global Advisors& Former US Amba...
More like Peter