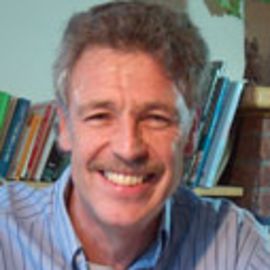 Peter H. Johnston
Author; Known for "Choice Words"
Peter Johnston grew up and taught elementary school in New Zealand before coming to the United States to earn his Ph.D. at the Center for the Study of Reading at the University of Illinois. At the time his plans did not include staying in the United States let alone getting married and raising a family. He now lives in Albany, New York, with his wife Tina, and a cat left behind by one of his (three) children returning briefly from college.
Peter's research and writing spring from his fascination with children's learning and, no less, teachers' teaching. Perversely, he believes that education is not simply about delivering information to children. He thinks it is more about building a just, caring society and that doing so will not detract from our more obviously pragmatic educational goals. In his most recent Stenhouse book, Choice Words, he uses his fascination with the relationship between language and learning to show how this works moment to moment in the classroom.
A professor at the State University of New York at Albany, Peter and his colleagues Becky Rogers and Cheryl Dozier recently researched their own teaching of beginning teachers in Critical Literacy/Critical Teaching: Tools for Preparing Responsive Teachers. Knowing Literacy, his most recent book on assessment, arose from his interest in the ways assessment teaching and learning are linked. His research on assessment has given him reason to be skeptical of high-stakes testing because of its effects on teaching and learning.
When asked to describe himself as a writer, he says that he "binges." While not recommended, this approach has resulted in some eight books and about fifty research articles, along with occasional awards from professional organizations. Some of this, of course, is accounted for by age. The departure of his youngest daughter into a teacher education program, along with his recent election to the Reading Hall of Fame, asserts his "old fart" status.
Beyond his family, research, soccer, singing, and humor sustain him. Failing that, a glass of chardonnay helps.
Videos
---
Speech Topics
---
Building intellectually, socially and emotionally healthy learning communities
While we are busy teaching children towards academic standards, they are busy becoming human beings, constructing identities and relationships within the daily life of the classroom. The ways we organize classroom life and the language of the classroom have a powerful influence on what children learn and who they become. Fortunately, teaching toward social and emotional wellbeing is also the foundation for accelerating intellectual development.
Engagement, Learning Communities and Children's Development
Research shows that focusing on learners' engagement affects their development, individually and collectively, and the qualities of the learning community. Seemingly small changes in classroom language and practice can affect students' academic learning, but more importantly leverage larger changes in school behavior, self-regulation, literacy learning, and, among other things, happiness (yes, happiness).