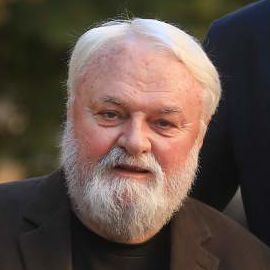 Peter Phillips
Political Sociologist
Peter Phillips is a Professor of Political Sociology at Sonoma State University since 1994, former Director of Project Censored 1996 to 2010 and President of Media Freedom Foundation 2003 to 2017. He has been editor or co-editor of fourteen editions of Censored, co-editor with Dennis Loo of Impeach the President: The Case Against Bush and Cheney 2006, editor of two editions of Progressive Guide to Alternative Media and Activism 1999 & 2004. He was a co-host of the weekly Project Censored show on Pacifica Radio with Mickey Huff 2010 to 2017 originating from KPFA in Berkeley and airing on forty stations nationwide. He teaches courses in Political Sociology, Sociology of Power, Sociological of Media, Sociology of Conspiracies and Investigative Sociology. He was winner of the Firecracker Alternative Book Award in 1997 for Best Political Book, PEN Censorship Award 2008, Dallas Smythe Award from the Union for Democratic Communications 2009, and the Pillar Human Rights Award from the National Associations of Whistleblowers 2014. He lives in a redwood forest near Bodega California with his wife Mary Lia.
Related Speakers View all
---
Kathryn Edin

Sociologist & Bloomberg Distinguished Professor at J...

Jonathan Metzl

Professor of Sociology & Psychiatry, Director of the...

Mark Granovetter

Joan Butler Ford Professor of Sociology at Stanford ...

Tiffany Jenkins

Sociologist, Cultural Commentator, Author & Culture ...

Dr. Melvin Mahone

Assistant Sociology Professor at Paine College

Arlie Russell Hochschild

Professor Emerita of Sociology at UC Berkeley, Autho...

Frances Fox Piven

Professor of Political Science and Sociology; Board ...

Ruha Benjamin

Sociology & African American Studies Scholar; Author...

Mario Small

Professor of Sociology at Harvard University; Award-...

David Williams

Professor of Public Health at Harvard University

Juliet Schor

Professor of Sociology at Boston College

Dr. Carl Hart

Professor of Psychology & Chair of Department of Psy...

Spencer Wells

Geneticist, Anthropologist, Author, Entrepreneur, Ad...

Julian E. Zelizer

CNN Political Analyst, Professor of History & Public...

Dr. Cornel West

Philosopher, Professor, Political Activist, Author o...

Jonathan Kozol

Educator & Social Justice Advocate

Richard Florida

Leading Urbanist, Economist & Author of "The Rise of...

Angela Davis

Feminist, Social Activist, Professor & Writer

Bertice Berry

Sociologist, Author and Educator

Anthony Christian Ocampo

Ford Foundation Fellow, Scholar, Writer & Sociology ...
More like Peter