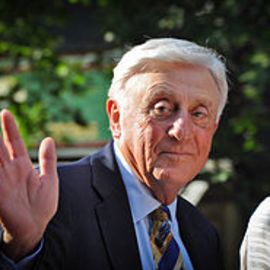 Phil Niekro
Philip Henry Niekro was born April 1, 1939 and nicknamed "Knucksie" because of his usage and skill level with the knuckleball, is a former Major League Baseball pitcher.
With 318 career victories, Niekro is one of the most successful knuckleball pitchers of all time. He was also an excellent fielder, winning the National League Gold Glove award five times. Together with his brother and sometime teammate Joe, the Niekro brothers are the winningest brother combination in baseball history, with 539 wins between them. Phil Niekro's 121 career victories after the age of 40 is a major league record, and his longevity is attributed to the knuckleball, which, while a difficult pitch for pitchers to master, is easy on the arm and difficult for batters to hit. He is also the uncle of current MLB player Lance Niekro.
Niekro pitched for 20 seasons for the Atlanta Braves (two of those seasons when the team was still in Milwaukee) and was popular in the city of Atlanta for remaining loyal to a team that often had a losing record, as well as for his contributions to Atlanta charities. On August 5, 1973, he threw a no-hitter against the San Diego Padres.
The Braves released the 45-year-old Niekro in 1984, who then signed with the New York Yankees and went on to win 16 games and make the last of his five All-Star appearances. It was while pitching for the Yankees that Niekro gained entry into the exclusive 300 win club with a shutout win over the Toronto Blue Jays on October 6, 1985. At 46, Niekro became the oldest pitcher to pitch a shutout in the major leagues. Ironically, he did not throw his trademark knuckleball until the final hitter.
After two seasons in New York, Niekro pitched for the Cleveland Indians and Toronto Blue Jays in 1986 and 1987. The Blue Jays released him after he pitched ineffectively, and as a publicity stunt, the Braves brought him back for one last start to wrap up his career late in the 1987 season. At the age of 48, Niekro was the oldest player in major league history to play regularly, and his 24 seasons in the major leagues without a World Series appearance is a major league record. He only appeared in the post season twice, making a playoff start in 1969 and again in 1982, both for Braves teams that would go on to lose the series.
After the end of his professional baseball career, Niekro managed the all-women Colorado Silver Bullets baseball team. He was elected to the Hall of Fame in 1997.
Videos
---
Books
---
News
---
Phil Niekro still in love with knuckleball
WESTPORT -- In his 24 year major league baseball career, Phil Niekro won 318 games, had 245 complete games in 716 starts, posted eight seasons of pitching more than 245 innings pitched including four seasons of more than 330 innings...
Related Speakers View all
---
Nolan Ryan

Executive Adviser to the Owner of the Houston Astros...

Greg Maddox

Baseball Player

Tom Seaver

Most baseball fans will undoubtedly best remember To...

Tom Glavine

Former MLB Pitcher for the Atlanta Braves

Hank Aaron

One of the Greatest Baseball Players of All Time; Se...

Don Sutton

Donald Howard Sutton was born April 2, 1945 in Clio,...

Dale Murphy

Former MLB Player, 2XMVP, 7X All-Star

Rod Carew

Former Major League Baseball first baseman

Gaylord Perry

Gaylord Jackson Perry was born September 15, 1938 in...

Ralph Kiner

Ralph McPherran Kiner was born October 27, 1922 and ...

Wade Boggs

National Baseball Hall of Famer, 12-Time MLB All-Sta...

Dennis Eckersley

Baseball Hall of Famer and Sports Analyst; 24 year c...

Mike Schmidt

Professional Baseball Player, Third Baseman

Cal Ripken, Jr.

President & CEO Ripken Baseball, Inc.; Baseball "Iro...

Jim Palmer

Former Pitcher for the Baltimore Orioles & National ...

Carlton Fisk

Former Red Sox & White Sox Hall of Fame Catcher

George Brett

Former Kansas City Royals Third Baseman; VP of Baseb...

Johnny Bench

National Baseball Hall of Famer, 14-Time MLB All-Sta...

Max Scherzer

American Professional Baseball Pitcher, Detroit Tigers

Matt Harvey

Matthew Edward Harvey is an American Major League Ba...
More like Phil