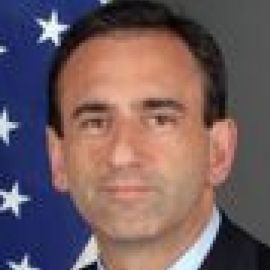 Philip Gordon
Former Special Assistant to the President on the Middle East and the Gulf Region
Dr. Philip Gordon was the most senior official focused on the Middle East when he served as the special assistant to the president and White House coordinator for the Middle East, North Africa, and the Gulf Region. With an extensive track record in Washington and at the National Security Council, he worked on issues like the Iranian nuclear program, Middle East peace negotiations, the conflict in Syria, security in Iraq, the democratic transitions in Egypt and North Africa, and bilateral relations with Israel, Jordan, and Lebanon. Gordon has high-level White House and State Department experience and worked closely with President Barack Obama, Secretary of State John Kerry, and National Security Advisors Susan Rice and Tom Donilon. Called "one of the premier scholar-practitioners of his generation," by the Council of Foreign Relations and exclusively represented by Leading Authorities speakers bureau, Gordon shares insights on the state of geopolitics and the U.S.'s relationship with the Middle East, including the three factors causing the region's chaos and the four things our nation should be doing about it.
A History of Successful Diplomacy. As assistant secretary of state for European and Eurasian affairs from 2009–2013, Gordon was responsible for 50 countries as well as NATO and the European Union, and worked closely with Secretary Hilary Clinton on U.S. policy toward Western and Eastern Europe, the Balkans, Caucasus, Turkey, and Russia. From 2000–2008, he served as a senior fellow at the Brookings Institution. He founded its Center on the United States and Europe (CUSE), a program devoted to transatlantic cooperation, and in 2006, he became a senior fellow there, focusing on U.S. foreign policy regarding Europe and the Middle East.
From 1998–1999, Gordon was director for European affairs at the National Security Council in the administration of President Bill Clinton, where he specialized in NATO, the European Union, Western Europe, Turkey, Greece, and Cyprus. From 1994–1998, he was a senior fellow at the London-based International Institute for Strategic Studies, and editor of its journal, Survival.
Videos
---
Speech Topics
---
The State of the Middle East.
The most senior White House official focused on the Middle East, Phil Gordon is a phenomenal and forward-thinking speaker on the state of the Middle East and the United States' relationship with the region. He explores the three factors causing chaos (the disintegration of the state systems, the Shia/Sunni split, and the Sunni/Sunni split) and the challenges facing Iraq, Libya, Syria, Israel, and Palestine. Believing that if we've learned anything in the past, it's that we can't just hope for the best, he offers the four things we should be doing in the region, and what we can learn from looking to Tunisia as a model nation state. He also explores how instability in the region affects our nation's interests and what businesses should know moving forward.
Related Speakers View all
---
Robert Hormats

Vice Chairman of Kissinger Associates Inc.

Kurt Campbell

Chairman and CEO, The Asia Group, LLC; Former Assist...

James Law

Chairman and Chief Cybertect James Law Cybertecture...

Thomas Pickering

Vice Chairman of Hills & Company, an International C...

Susan O'
Valdis Dombrovskis

Executive Vice-President, European Commission; Forme...

George Mitchell

Global Diplomat, Peace Negotiator & Leadership Exper...

James Traub

Global Affairs & Politics Writer

Melanne Verveer

Director of the Georgetown Institute for Women, Peac...

Nicholas Burns

Professor of the Practice of Diplomacy & Internation...

Zalmay Khalilzad

U.S. Counselor at the Center for Strategic and Inter...

Andrea Mitchell

Award-Winning Chief Foreign Affairs Correspondent at...

Parag Khanna

Leading Geo-Strategist & Author

Seymour Hersh

Pulitzer Prize-Winning Investigative Journalist, Rep...

Phil Gordon

Gamification Strategist, CEO of Jawfish Games & Reti...

Ivo Daalder

President of The Chicago Council on Global Affairs

Rabbi Shmuley Boteach

Prominent Orthodox Jewish Rabbi & Sex and Relationsh...

Daniel Benjamin

Director, The Dickey Center, Dartmouth College & For...

Arie Kapteyn

Professor of Economics; Executive Director of the US...

Mark S. Zaid

Attorney
More like Philip