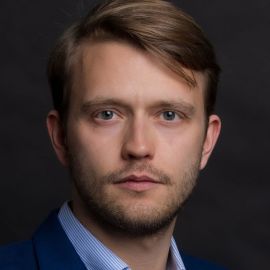 Philipp Kristian
Trust Futurist, Innovation Strategist, TEDx Speaker & Author of "The Trust Economy"
Philipp Kristian shares impactful stories inspiring an exponentially brighter future. Working globally with the biggest and best names in business, he demystifies the Trust Economy and shows how trust will be our superpower in the digital age.
Deep in our hearts all of us desire and dream of a brighter tomorrow. What's missing is trust: We need to trust ourselves, and others must trust us so we can be the change we want to see. Trust isn't everything, but without it, everything is nothing. Philipp runs OxytocinGroup, a global think tank, innovation foundry and brand studio working with Fortune 500s and technology disruptors on creating stories that build the products, services and organisations of tomorrow.
Philipp's book, 'The Trust Economy', demonstrates how we can trust-hack innovation and transformation to unleash human and organisational potential and turn ideas into powerful change. It's the manual he wished he had starting his whirlwind innovation career. Over a decade, he learned the hard way that great leaders and innovators need to be trusted. In the process, he was the first innovation strategist for FutureBrand in Asia, a founder of MetLife's first global R&D hub and the voice who branded and positioned Circles.Life, Asia's first digital telco, all before age 23. Since, he advised many more global players and technology disruptors on walking the Trust Economy talk and leveraging trust to own their future in the digital age.
Philipp's intense passion for trust roots in his fascination with behaviour change. Who, what and how we trust influences our behaviour. Our behaviour drives our choices, and our choices define our future. As a Trust Futurist, he shows us how humanity's collective decisions shape our world and what this means for all of us. His work as a leading Innovation Strategist uses this foundation for pioneering a brighter future. Understanding why trust is the fibre of human society and our engine of advancement will empower us to do good and achieve greatness.
Philipp speaks, advises, ventures and invests, focusing on the Trust Economy and shaping the future of work, life, innovation, customer experience and purpose. In the past years he covered 30+ countries, 5 continents and over a dozen industries thanks to his clients' generous recommendations. He teaches an executive education course on innovation and transformation at Singapore Management University, is an alumnus of the d-school and was named a St. Gallen Symposium Leader of Tomorrow, KAIROS Fellow and World Economic Forum Global Shaper. Trust and innovation are in his DNA since his grandfather's significant contributions as a German parliamentarian and his parents' dedication to building one of the most prolific German engineering powerhouses in 1976.
Videos
---
Speech Topics
---
Exponential Empowerment: The Future of Work and Leadership in the Trust Economy
Today, trust ranks as the most important characteristic of the best workplaces, executives and teams. Magnetising teams to work as one and get more done is the order of the day. But approaches to trust vary wildly: While Gen X and Baby-boomers expect trust to be earned, Millennials and Gen Z seek to be trusted upfront.
Transformational Trust: Technology and Data in the Trust Economy
Distrust is the disease of the 20th?century. Contracts, parking gantries, locks, security checks and lengthy privacy policies are just the tip of the iceberg. But excessive rules and distrust cause friction, waste time and money and paralyse progress. Technology may have the answer. Digital platforms are making us trust easier and faster than ever before, and the upside is huge.
Related Speakers View all
---
Erik Qualman

Top Digital Transformation Expert, Futurist & Bestse...

Ray Kurzweil

Chairman of Kurzweil Technologies; Inventor; Futurist

Alex Salkever

Futurist, Author of "The Driver in the Driverless Ca...

Nicole Yeary

Founder & CEO of Ms.Tech

Tom Koulopoulos

Chairman & Founder, Delphi Group; Business Author, V...

Josh Linkner

Five-Time Tech Entrepreneur; Hyper-Growth CEO; NY Ti...

R "Ray" Wang

Founder, Chairman & Principal Analyst at Constellati...

Richard Florida

Leading Urbanist, Economist & Author of "The Rise of...

Peter Diamandis

Founder & Executive Chairman of the XPRIZE Foundatio...

Jacob Morgan

Business Futurist & Bestselling Author of "The Futur...

Ayesha Khanna

The Leading Expert on Our Intelligent Future

Jay Samit

Digital Pioneer, Innovator, Serial Disruptor, Futuri...

Jeremy Rifkin

Leading Global Technologist, Futurist, Authority on ...

Dr. Michio Kaku

World-Renowned Futurist & Theoretical Physicist

Terry Jones

Digital Disruptor, Author & Venture Capitalist

Daniel Burrus

Technology Futurist, Business Strategist & Hall of F...

Ian Khan

Emerging Technology Expert; Forbes Contributor & Fea...

Adam Cheyer

Top Technology and AI speaker, Co-Founder & VP Engi...

Uri Levine

Entrepreneur & Co-Founder of Waze

Bonin Bough

Former Chief Media & eCommerce Officer at Mondeléz I...
More like Philipp