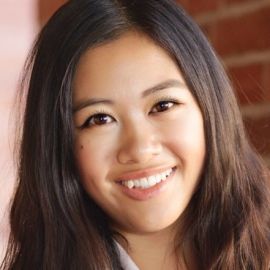 Pocket Sun is Co-founder and Managing Partner of SoGal Ventures, the world's first female-led millennial venture capital firm investing in startups in the US and Asia. In the past two years, the two partners of SoGal Ventures have made 42 investments around the world. Shortly after receiving her Master's Degree from the University of Southern California in Entrepreneurship and Innovation, Pocket became one of the youngest people to ever be on the cover of Forbes Magazine at the age of 24.
As a disruptor in venture capital and advocate for diversity, Pocket is frequently invited to speak to organizations such as PwC, Coca Cola, BoA Merrill Lynch, Accenture, Ogilvy & Mather, London Business School, National University of Singapore, and at the world's best tech and business conferences, including Microsoft CEO Summit, Fortune's Most Powerful Women Summit, and TEDx. She has been recognized with many awards and features for her entrepreneurial achievements, including Forbes 30 Under 30 in VC, BBC World News, Fortune, LinkedIn Top Voices, Harper's BAZAAR "Women of Our Time", CCTV, The Straits Times, Tatler ""Generation T"", Channel News Asia, DBS "Asian Unstoppables", etc.
Previous Keynotes and Talks on Venture Capital, Entrepreneurship, Next Generation, and Diversity (incomplete list): - Microsoft CEO Summit in Seattle (among Warren Buffet, Bill & Melinda Gates, and Sheryl Sandberg) - Fortune's Most Powerful Women Summit in Hong Kong - PwC Annual Partners Conference in Macao - The Economist Asia's Future Conference in Sydney - Millennial 20/20 in Singapore - Global Corporate Venturing Asia Congress - TEDxShanghaiWomen - SLUSH Singapore - World Wealth Creation Conference - Latitude 59 in Tallinn, Estonia - Startup Village in Moscow, Russia
Speech Topics
---
Venture capital, entrepreneurship, diversity, China, innovation, millennials, next generation, consumer businesses, startups
Related Speakers View all
---
Nicole Yeary

Founder & CEO of Ms.Tech, A Company That Aims to Sup...

Fran Hauser

Media Executive, Startup Investor & Best-Selling Aut...

Arlan Hamilton

Founder & Managing Partner at Backstage Capital, Tec...

Kristie Kennedy

Women's Worth & Wellness Expert, TEDx Audacious Lead...

Jodi Bondi Norgaard

Founder of Dream Big Toy Company & Creator of Go! Go...

Lolita Taub

Latina Tech Venture Capitalist; Co-Founder & General...

Rahama Wright

Women's Advocate, Social Entrepreneur, Founder & CEO...

Maya L. Harris

Influential Voice at the Intersection of Politics, P...

Shiza Shahid

Entrepreneur, Technologist, Investor, Impact Leader ...

Donna Orender

CEO of Generation W & Former WNBA Commissioner

Magdalena Yesil

Author & Co-Founder of DriveInformed

Tamika D. Mallory

Social Justice Leader & Movement Strategist

Amanda Nguyen

2019 Nobel Peace Prize Nominee & CEO and Founder of ...

Morgan DeBaun

Founder & CEO of Blavity Inc.

Natalya Bailey

Aerospace Engineer; Founder & CEO of Accion Systems

Kimberly Bryant

Founder & CEO of Black Girls CODE

Maria Teresa Kumar

Political Rights Activist, President & CEO of Voto L...

Abigail Johnson

President & CEO of Fidelity Investments

Aileen Lee

Founder & Managing Partner at Cowboy Ventures; Found...

R "Ray" Wang

Founder, Chairman & Principal Analyst at Constellati...
More like Pocket