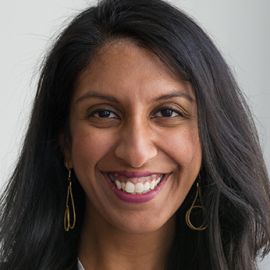 Pooja Bavishi is the founder & CEO of Malai Ice Cream, a small-batch artisanal ice cream company.
Malai, meaning "cream of the crop" in a North Indian language, is an ice cream company that draws inspiration from globally-sourced ingredients, aromatic spices, and classic twists. The super-premium ice cream is handcrafted, eggless, and churned with very little air, resulting in pure, robust flavors, and the lightest, creamiest textures.
Pooja's interest in flavor development and fragrances of unique spices can be traced back to her childhood. On any given morning, you could spot Pooja taking long whiffs of her parents' chai often before they took their first sip, a practice that they patiently indulged. Although atypical, this was the first step into a lifelong passion for experimenting with aromatic spices, global cuisines, and unconventional flavor pairings.
Pooja continued to pursue her love for cooking and baking as a hobby, even as her professional interests led her to work in the nonprofit sector, regularly blogging about her latest culinary creations and throwing parties for her friends and family as an excuse to experiment with new recipes. They were her constant focus group, giving her feedback, and encouraging her as she dreamt of starting her own food business at some point in the future. Pooja became particularly inspired by the blank palate of an ice cream base when she discovered that the same spices of her childhood - ginger, nutmeg, cardamom, and saffron - could be used to robustly flavor ice creams in a way that she never tasted before.
After graduating with her MBA at the NYU Stern School of Business, Pooja decided to take the leap to grow her hobby into a business and bring these unique flavors to new audiences, founding Malai in 2014. Pooja continues to craft all of Malai's ice cream by hand at Pilotworks Brooklyn and is continually energized by introducing her passions to more people.
Videos
---