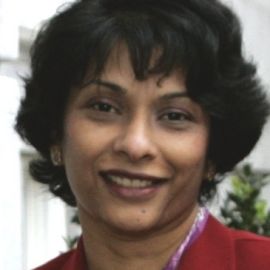 Preetha Ram is cofounder and chief academic officer of Inquus Corporation (OpenStudy). She is on leave as associate dean for PreHealth and Science Education in the Office of Undergraduate Education of Emory University, where she was founder and executive director of the Emory PreHealth Mentoring Office (PHMO), founding co-director of the Emory-Tibet Science Initiative, and founder and Director of Interdisciplinary Science Program for Integrating Science into Education. At Emory, she also founded several educational initiatives, including Science Experience Abroad, ChemMentors peer-to-peer learning program that grew into the Supplemental Instruction model for Emory College and International Research Experience for Science fellowships.
She received a Bachelor's of Science in Chemistry from Women's Christian College in Chennai, India, later receiving a Master's of Science in Chemistry from the Indian Institute of Technology Delhi. She left for the United States in 1983 to pursue a PhD in Chemistry. She first enrolled at the University of Illinois at Urbana-Champaign, where she met her soon-to-be husband, Ashwin Ram, whom she married in 1984. She left Illinois for Yale University in 1984 to pursue higher studies in biophysical chemistry. She received her PhD from Yale University in 1989, and her MBA from the Goizueta Business School in 2010. x
Preetha Ram joined Emory University since 1989. As chemistry faculty, she taught introductory chemistry, analytical chemistry and physical chemistry. She created a new problem-based learning approach to introductory science education, which she published and introduced to large freshman classes and small upper-division seminars. She was appointed associate faculty in educational studies, director of undergraduate studies in chemistry and in 2005 moved to higher university administration as a dean in the Office of Undergraduate Education.
As founding co-directors of the Emory-Tibet Science Initiative (ETSI), Ram and Lobsang worked with the Dalai Lama to help develop a curriculum and instructional model for educating Tibetan monatics. Under her direction, ETSI faculty instructed Tibetan monastics on western science, including cosmology, biology, physics, chemistry, and neuroscience, balancing western thought with Buddhist theology.
Ram believes that international experience abroad is a critical part of the college experience for all students, but most particularly science students.
Ram is not afraid of controversy. She brought science and religion in close proximity through the Emory-Tibet Science Initiative. She introduced problem-based learning pedagogy to undergraduate science, coupled with web-based technology for peer learning on a large scale. These innovations led to the Open Social Learning framework, created in collaboration with Ashwin Ram and Chris Sprague, which allows open education to be scaled to millions by enabling students to teach each other using social web technologies. She introduced a new crowdsourced credentialing system to assess soft skills such as teamwork, problem solving and engagement using web analytics and peer recognition instead of traditional tests and grades. These innovations led to an e-learning startup company, OpenStudy, which created the first global-scale open social learning network and crowdsourced credentialing system.
Ram is on the advisory board of Future of Learning at the Institute for the Future, adviser and former Dean at the University of the People, and member of Project Kaleidoscope, an organization devoted to the improvement and sustainability of undergraduate programs in the fields of science, technology, engineering and mathematics.
Videos
---
Related Speakers View all
---
Wilton Virgo

Harvard-MIT Scientist, TED Educator, STEM Speaker, O...

Gerald Vizenor

Distinguished Professor of American Studies at the U...

Carola Suárez-Orozco

Co-Director, Institute for Immigration, Globalizatio...

Holden Thorp

Chemist, Inventor, Musician, Professor, and Entrepre...

Penny Chisholm

Award-Winning Oceanographer

Po-Shen Loh

Founder of Expii & National Math Olympiad Team Coach

David J. Brenner

Director of the Columbia University Center for Radio...

Lella Gandini Ed.D

United States Liaison for the Reggio Emilia Program ...

Geeta Menon

Business Professor at NYU, Former Dean of NYU

Sylvia Hurtado

Professor of Education & Information Studies at UCLA...

David Sloan Wilson

SUNY Distinguished Professor of Biology and Anthropo...

Karen Wynn

Professor, Department of Psychology and Cognitive Sc...

Todd Rose

President, Center for Individual Opportunity; Lectur...

Darrell Kirch

President & CEO of the Association of American Medic...

Diandra Leslie-Pelecky

Author, 'The Physics of NASCAR'

Janet Iwasa

Molecular Animator & TED Fellow

Michael Archer

Paleontologist Michael Archer is working to bring ba...

Mitch Resnick

Mitchel Resnick is LEGO Papert Professor of Learning...

Katherine Kuchenbecker

Assistant Professor in the Mechanical Engineering an...

Laura Snyder

Professor; Science Historian; Philosopher; Author of...
More like Preetha