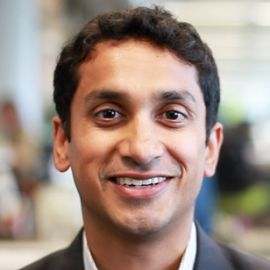 Premal Shah believes your last name doesn't need to be Gates or Rockefeller in order to make a real dent in global poverty. After leaving his job as a Principal Product Manager at PayPal, it has taken Premal less then a year to make good on Kiva's pledge that all it takes to become a micro lender is a credit card and access to a computer. Raising money "Howard Dean Style" from over 13,000 online lenders, Kiva has provided more than a million dollars in low-cost working capital to small-scale entrepreneurs in less developed countries from Bulgaria to Uganda. As President, Premal leads Kiva.org's efforts to scale its partnerships and member base.
During his 6-year career at PayPal, Premal drove a number of key initiatives including a yearlong project defining eBay's role in economically empowering the global working poor. A number of corporate initiatives have come out of this effort, including PayPal's support of Kiva.org. Prior to PayPal, Premal was a strategy consultant at Mercer Management Consulting in New York. Premal has had a long-standing interest in microfinance. In 1997, he was awarded a grant from Stanford University to research microfinance in Gujarat, India. More recently Premal co-founded the Silicon Valley Microfinance Network and spent 2 months in India working to refine / validate Kiva.org's model. In 2006, Premal was a featured speaker at the Clinton Global Initiative and Global Microcredit Summit. Premal graduated with a B.A. in Economics from Stanford University.
Videos
---
Related Speakers View all
---
Mitch Lowe

Co-founding Executive of Netflix & President of RedBox

Iqram Magdon-Ismail

Co-Founder of Venmo

Randi Zuckerberg

CEO & Founder of Zuckerberg Media, Author

Gary Vaynerchuk

Co-Founder & CEO of VaynerMedia

J.B. Straubel

Co-Founder & Former Chief Technical Officer of Tesla

Nicole Yeary

Founder & CEO of Ms.Tech

Tony Hsieh

Former CEO of Zappos; Co-Founder of LinkExchange

Terry Jones

Digital Disruptor, Author & Venture Capitalist

John Rossman

Former Amazon Executive, Author & Expert on Digital ...

Jim McKelvey

Co-Founder of Square, Serial Entrepreneur, Inventor,...

Sally Osberg

Former President and CEO, Skoll Foundation

Peter Thiel

Former CEO and Co-founder of PayPal; Technology Entr...

Muhammad Yunus

Nobel Peace Prize Laureate & Founder of Grameen Bank...

Ray Kurzweil

Chairman of Kurzweil Technologies; Inventor; Futurist

Daymond John

"Shark Tank" Investor; Founder & CEO of FUBU; Presid...

Joe Madiath

Social Entrepreneur; Founder and Executive Director,...

Rupert Howes

CEO, Marine Stewardship Council

Stephan Chambers

Director of the MBA, Saïd Business School, Universi...

Martin Burt

Executive Director, Fundacíon Paraguaya

David Bornstein

Author, Fixes column in The New York Times and Found...
More like Premal