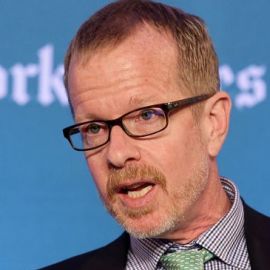 Quentin Hardy
Head of Editorial, Google Cloud; Former Deputy Technology Editor, The New York Times and Technology and Business Expert
Quentin Hardy is the Head of Editorial for Google Cloud, writing about business, behavior and technology, with a general focus on cloud computing.
He was formerly the deputy technology editor for The New York Times and an executive editor for Forbes Media.
Hardy began his career at The Wall Street Journal, and has written cover stories on such diverse topics as the Internet, Africa, Finance, Enterprise Hardware and Software, Management, Satellites, Energy and even the Marijuana Industry.
A frequent guest on CNBC's Kudlow & Company, Hardy speaks at over twenty events a year, ranging from CEO conferences and technology seminars, to Webcasts, luxury cruises and panels on national and international issues. Recent work includes running a full-day event at Google, moderating a nationally-broadcast panel on doing business in China and addressing 300 corporate leaders about the changes technology will bring to their companies and markets.
Hardy began his career as an international publisher, and has lived and worked in a dozen countries, including Japan, Singapore and the United Kingdom. A recipient of a Knight-Bagehot Fellowship in Business Journalism and an Overseas Press Club award, he lectures on technology and social change at the Information School of the University of California, Berkeley, and works with their Executive Education program.
Videos
---
Speech Topics
---
A Skilled Moderator or Host
In addition to keynoting, Quentin Hardy often serves as discussion leader, moderator and/or emcee for senior executive events. He has covered topics as far-ranging as corporate reform; the global economy; catastrophe preparedness and lessons from Hurricane Katrina; innovation and the impact of social media. Versatile and skilled, Hardy has interviewed rising entrepreneurs, top CEOs and political leaders alike. He possesses the rare ability to ask the right questions and turn high-level ideas into critical information audiences can readily use.
The Way Ahead: Rebuilding Three Circles of Trust
In todays business climate every business, institution and household faces the same problem: Whom should I trust and how do I get people to trust me? In the age of Bernie Madoff and the derivatives debacle, it seems like everyone on Wall Street is suspect. Meanwhile, good businesses cannot get loansthanks to the credit crunchwhile a culture of cynicism is fed by gotcha journalists and quick-hit bloggers. This should, can and will end. Quentin Hardy has reported on Japanese financial collapses, the dotcom bubble and todays financial woes. He shares:
His perspective on the technological roots of the problem
Insights on the universal practices of trust that must be re-invented
How to build better management and business structures that avoid historical repetition
Community, Contagion and Capitalism: Technology and the Future of Society
The communications revolution has not just sped up our lives; it has changed the way we think about politics, companies and even national power. If you are under the impression that this type of revolution is a new experience for humanity, think again. Comparisons with the distant past are important as we try to make sense of the ever-evolving role of technology in our lives and use communication tools and resources from Twitter, Facebook and Skype. Quentin Hardy shares:
A comparative look at todays revolution with those of our past
His take on what is happening today, drawn from his university lectures to late-night conversations with CEOs
He readies audiences for the coming Concierge World where custom business relationships, consumer goods and entertainment dominate
Managing that Matters: Lessons from Planet Google
Management guru Peter Drucker called the creation of the computer the birth of a new basic civilization in which managers would take on entirely new roles and work would be organized in unforeseen ways. His predictions are coming true as the organization and management of companies such as Google, Cisco and Yahoo! retool their structures aimed at achieving a new level of efficacy. After covering all the major technology players in globally and Silicon Valley, Quentin Hardy provides insights on:
What efforts have worked and what has been a dead end
Pointers on how communications technologies are used to market internally and externally, winning loyalty and inspiring people
A look ahead to what management approaches to expect next from the technology leaders
Related Speakers View all
---
Gary Hamel

Internationally Renowned Expert on Business Strategy...

R "Ray" Wang

Founder, Chairman & Principal Analyst at Constellati...

Watts Wacker

Futurist & Commentator

Jim Carroll

One of the World's Leading Global Futurists, Trends ...

James Canton

Futurist, Author & Visionary Business Advisor

Jack Shaw

Corporate Financial Executive, Software Company Exec...

Tim Sanders

Bestselling Author, Technology Pioneer, Expert on Co...

Geoffrey Moore

Managing Director, Geoffrey Moore Consulting; Ventur...

Geoff Colvin

Editor & Columnist at Fortune Magazine; Author of "H...

Michael Rogers

MSNBC's 'The Practical Futurist' & Technology Expert

Jeremy Rifkin

Leading Global Technologist, Futurist, Authority on ...

Ray Kurzweil

Chairman of Kurzweil Technologies; Inventor; Futurist

Parag Khanna

Leading Geo-Strategist & Author

Richard Florida

Leading Urbanist, Economist & Author of "The Rise of...

Peter Diamandis

Founder & Executive Chairman of the XPRIZE Foundatio...

Sir Richard Branson

Businessman, Founder of Virgin Group

Dan Ariely

Behavioral Economist; Professor at Duke University; ...

Kevin Allocca

Head of Culture & Trends at YouTube

James Citrin

Partner, Spencer Stuart & Author on Leadership and C...

Dr. Paul Wolpe

Director of the Emory Center for Ethics
More like Quentin