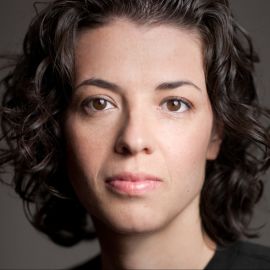 Quiara Alegría Hudes is a writer, strong wife and mother of two, barrio feminist and native of West Philly, U.S.A.
Hailed for her work's exuberance, intellectual rigor, and rich imagination, her plays and musicals have been performed around the world. They include "Water By the Spoonful," winner of the Pulitzer Prize for Drama; "In the Heights," winner of the Tony Award for Best Musical and Pulitzer finalist; and "Elliot, A Soldier's Fugue," another Pulitzer finalist. Her most recent musical, "Miss You Like Hell," appeared Off-Broadway at New York's Public Theater. Hudes wrote the screenplay adaptation for "In the Heights" which releases in movie theaters Summer 2020.
Originally trained as a composer, Hudes writes at the intersection of music and drama. She has collaborated with renowned musicians including Nelson Gonzalez, Michel Camilo, Lin-Manuel Miranda, Erin McKeown, and The Cleveland Orchestra.
Hudes recently founded Emancipated Stories. It seeks to put a personal face on mass incarceration by having inmates share one page of their life story with the world.
After graduating from public school in Philadelphia, Hudes went on to receive a B.A. in music from Yale University and an M.F.A. in playwriting from Brown, where she studied with Paula Vogel. She was recently inducted into the Central High School Hall of Fame--in the first round of women to receive this honor since the school's founding in 1836.
Hudes is on the board of Philadelphia Young Playwrights, which produced her first play in the tenth grade. She now lives in New York with her husband and children.
Videos
---
Speech Topics
---
A Writer's Many Selves
Hudes grew up in an improbably diverse setting--a childhood and adolescence where many nationalities and religious practices intersected as a daily matter of course. How did she find the connective tissue between Vietnamese and Ethiopian neighbors, street performance artists, Quakerism, Santeria and Western classical music to forge a literary voice all her own? In a nation that is increasingly diverse and where check-boxes are incomplete tools of understanding, this bicultural artist finds energy and a new kind of American identity in the connective tissue between her many selves.
Art and Commerce
How does an artist put food on the table? How do foundations, donors, and institutions help artists on their wildly unpredictable creative journeys? The needs of the artistic process--freedom, trial and error, long-term exploration--often conflict with the needs of foundations and institutions--return on investment, fiscal year budgeting, concrete reporting. With blatant honesty Hudes dissects the finances of a creative life and discusses how artists and their supporters can forge more organic and beneficial partnerships.
The Latino Artist Today
How do you capture the essence of the wildly diverse, almost undefinable "Latino artist" of today? Through jokes, politics, statistics, anecdotes, and poetic passages, Hudes attempts to define the undefinable next wave of American art.
A Woman's Journey
Hudes absorbed the stories of her second-grade educated grandmother, the spiritual teachings of her priestess mother, and the shrewd advice of her powerful female mentors, and forged a literary path all her own. In her own plays she has delved into the female body and spirit while in her life she has balanced changing diapers, building a marriage, service to the community, and leadership at the top of her field. In a searing, sensual, and personal presentation, Hudes discusses the spiritual and intellectual components of her feminine self and the wisdom she inherited from those who came before.
Books
---