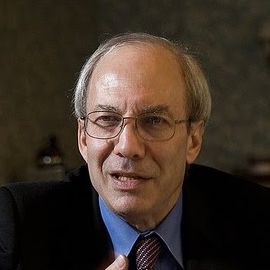 Rabbi Eric Yoffie is a writer, lecturer and internationally known religious leader. A powerful, thoughtful, and humorous speaker, he talks to both religious and general audiences on Israel and the Middle East, Business Ethics, Leadership, American Religious Life and American Jewish Life. He has presented at the World Economic Forum in Davos, and has appeared on Fox News, CNN, and many other news outlets. He writes regularly for The Huffington Post, The Jerusalem Post and Haaretz and is quoted frequently in the general and Jewish press.
Traveling often to Israel and meeting frequently with Israel's elected leadership, Yoffie is an expert on Israel and the Middle East and one of the most frequently quoted American Jewish leaders on the subject for the past two decades. Jonathan Tobin of Commentary magazine wrote that "Rabbi Eric Yoffie may have been, like many Reform Jews, a liberal and a critic of Israel's nationalist right and its Orthodox religious establishment, but he was also in the tradition of the mid-century leaders Stephen Wise and Abba Hillel Silver -- who changed Reforms orientation from hostility to Zionism toward passionate advocacy."
In the realm of interfaith relations, Yoffie holds an astonishing number of "firsts." He was the first rabbi to address the students and faculty of the Rev. Jerry Falwell's Liberty University; the first major Jewish leader to speak at the convention of the Islamic Society of North America; and the first Jew ever to address the Church-wide Assembly of the Evangelical Lutheran Church of America. As one newspaper put it, he has been American Jewry's Daniel, going where others have not gone. He was also the only American religious leader to address the Million Mom March in Washington, D.C., presenting a religious view of the issue of guns and gun control.
In the last several years, primarily in his writings in The Huffington Post, Yoffie has addressed matters of belief and spirituality as they impact Americans of all faiths and of no faith. He has been an articulate advocate for a modern and thoughtful approach to American religious life.
Speech Topics
---
Israel and the Middle East
A fresh look at Israel's inspiring story, external threats, and internal challenges
Jews, Catholics, Muslims, Evangelicals
How to have meaningful and effective interfaith dialogue
The Church-State Dilemma
What role should religion play in politics and where should we draw the line?
Related Speakers View all
---
Sayed Kashua

Palestinian Novelist, Cultural Critic & Creator of I...

Rabbi Daniel Lapin

American Orthodox Rabbi, Author, Head of the America...

Naomi Levy

Rabbi, Spiritual Leader & Founder of Nashuva

Sharon Brous

Senior & Founding Rabbi of "Israel: Knowledge, Advoc...

Susannah Heschel

Professor of Jewish Studies at Dartmouth College an...

Vanessa Ochs

Author of "Inventing Jewish Ritual", Winner of 2007 ...

Aaron David Miller

Former Advisor on the Middle East & Author

Ruth Messinger

Global Ambassador of American Jewish World Service

Patricia Marx

Humorist, Writer, Contributor to "The New Yorker"

David Biale

Leading Scholar of Jewish Intellectual & Cultural Li...

Ronald W. Zweig

Israeli Historian Specializing in Hebrew & Judaic S...

Julia Bacha

Award-Winning Documentary Filmmaker, Creative Direct...

Susan Stamberg

Nationally Renowned Broadcast Journalist & NPR Speci...

Daniel Ayalon

Israeli Diplomat & Former Israeli Ambassador to the ...

Michael Solomonov

James Beard Award-Winning Chef, Entrepreneur & Human...

Gal Gadot

Israeli Actress & Model; Known for "Wonder Woman" & ...

Ben Stein

Political Economist, Commentator, Author & Actor

Mandy Patinkin

Actor Best Known for "Homeland," "Criminal Minds" a...

Leah Daughtry

President & CEO of On These Things

Rabbi Dan Ain

Founder and Spiritual Leader, Because Jewish
More like Rabbi