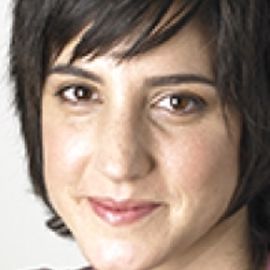 Rachel Simmons is America's go-to expert on the emotional lives of girls and young women. Her landmark book, the bestselling Odd Girl Out: The Hidden Culture of Aggression in Girls, shines a light on the rampant bullying that occurs among girls. She also authored the very popular Curse of the Good Girl: Raising Authentic Girls with Courage and Confidence, and co-founded the nationally acclaimed Girls Leadership Institute. Additionally, Simmons has been invited to the White House twice, and was asked by Oprah Winfrey to work at her girls' school in South Africa. She is an architect of the national Ban Bossy initiative created by Sheryl Sandberg's Lean In organization.
Simmons is a master educator who helps women become more assertive, resilient and self-aware, as well as a pioneer in social-emotional learning as targeted to the specific needs of girls and young women. Her work relates equally as well to boys.
With a mix of scholarship and down-to-earth humor, Simmons brings practical, thought-provoking and inspiring content to a wide range of audiences. She speaks from the heart about the curses and blessings of being an overachieving young woman.
When given the permission to trust their feelings and vocalize their needs, young women respond courageously to mistakes—and can build the foundation for a life of confidence, kindness and authenticity. Simmons' programs target the fear of failure that plagues so many, especially those in high-achieving communities. She gives them concrete strategies to become braver in their everyday lives.
Videos
---
Speech Topics
---
Odd Girl Out: The Hidden Culture of Aggression in Girls
When a girl's relationships are in trouble - due to exclusion, abusive friendships, cyber-bullying, etc. - her core sense of self is threatened. Parents feel anguished and helpless. As an intimate observer of girls' social world, speaker Rachel Simmons offers parents a window into the hidden culture of girls' aggression. Every year, she empowers thousands of parents to help their daughters negotiate some of the most painful moments of their lives.
Simmons' unparalleled experience with girls, shared in her humorous presentations, makes her a favorite of parent associations around the world. Weaving down-to-earth advice with analysis of girls' development, Simmons provides parents with concrete strategies and scripts to help kids cope with best friends, worst enemies, and everything in between. Simmons also coaches parents on monitoring their girls' use of social media. Presentations last one hour and are followed by 30 minutes of Q & A.
Be You: An Interactive Parent-Daughter Workshop
In this interactive workshop for girls and parents, speaker Rachel Simmons teaches practical strategies to be confident, courageous, and authentic in relationships. With guided questions that open up new conversations between parents and their girls, participants come away with a new language to talk about toxic friends and being true to oneself. Girls will practice communicating assertively and learn problem-solving tools with their parents that they can take with them to school the next day. With her personable, down-to-earth speaking style, Simmons keeps participants laughing, interacting, and learning.
The Curse of the Good Girl
Learn how the pressure girls face to please others at all costs installs a glass ceiling on their social, academic, and extracurricular potential. In this lecture, speaker Rachel Simmons teaches participants strategies to help girls communicate assertively, understand their own feelings, and battle perfectionism.
BFF 2.0: Girls' Love-Hate Relationship with Social Media & How to Parent through It
Why do girls say they don't exist if they're not on Facebook, yet at the same time feel they have no choice? In this hour-long talk, speaker Rachel Simmons decodes the ups and downs of girls' online lives. She explores the challenge of setting limits at a time when other parents seem more permissive than ever. Using the latest research on social media and youth, Simmons will share practical strategies to set limits on use, respond to cyber-bullying, and parent with authority and compassion.
Is She Mad At Me? Teaching Girls Relationship Management Skills
In this two-hour workshop, educators, clinicians, and other youth professionals will uncover the unwritten rules that guide girls' day-to-day social struggles and undermine their ability to maintain healthy relationships. Speaker Rachel Simmons will teach strategies to address destructive assumption-making among peers, how to respond to the phrases "no offense" and "just kidding," and dysfunctional responses to confrontation. She will also address conflict coping strategies.