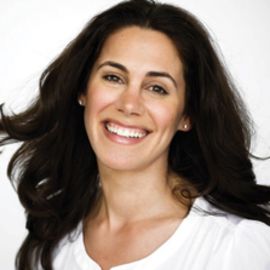 Rachel Sklar is a writer and entrepreneur based in New York. She is the co-founder of Change The Ratio, which increases visibility and opportunity for women in tech & new media, and TheLi.st, a network & media platform for awesome women. A former lawyer who writes about media, politics, culture & technology, she was a founding editor at Mediaite and the Huffington Post.
She has written widely for publications including New York Times, Newsweek/Daily Beast, Politico, Mashable, Medium, Mother Jones, Glamour, Elle, Marie Claire and co-created and hosted the first Daily Beast video interview show. She is the author of A Stroke of Luck: Life, Crisis and Rebirth of a Stroke Survivor (1998) and has contributed to several anthologies, including TheLi.st's The 10 Habits of Highly Successful Women (2014), My Parents Were Awesome (2011), This Is Why You're Fat (2009) and Camp Camp: Where Fantasy Island Meets Lord of the Flies (2007). She co-edits TheLi.st @ Medium, a collection of current writing by and about superstar women.
Rachel speaks widely at conferences, events and on TV, and is the co-host of "The Salon" on The Jewish Channel (check local listings!). She is an advisor to several startups, including Vox Media, The Daily Muse, Lover.ly, DonorsChoose, TeachAIDS.org and She's The First. She is also a proud member of the Reboot, TED & Summit communities and of the Lean In launch team. Rachel's other initiatives include founding Charitini, a social enterprise to facilitate group giving around events, and CTRComedy - an all-women comedy initiative which quadrupled the number of women performing comedy at SXSW in 2011 and 2012. An avid lyricist, she has performed in musical, comedy and musical comedy shows at Joe's Pub, Sixth & I, Caroline's, UCB, 54 Below, the 92nd St. Y (uptown and downtown!) and various smaller venues around NY.
Rachel was named to the Silicon Alley 100 in 2009, 2010, 2011 & 2013, FastCompany's "League of Extraordinary Women," Forbes' "Women Changing The World," JWA's "Making Trouble, Making History" award, Marie Claire's "New Guard" and has earned numerous awards for her writing, including multiple Mirror Award nominations and two People's Choice Mirror awards. In 2014, the #changetheratio hashtag was named one of Forbes' Viral Hits for Empowering Women & Girls.In 2012 TheLi.st won a grant from the Knight Foundation and in 2013 she & TheLi.st were profiled by the New York Times. Follow her on Twitter at @rachelsklar, and sing showtunes with her anytime.
Books
---
Related Speakers View all
---
Gina Bianchini

Serial Entrepreneur, Columnist & Thought Leader; Fou...

Soraya Darabi

Renowned Digital Entrepreneur; Social Media Pioneer

Sheryl Sandberg

COO of Facebook, Bestselling Author & Founder of Lea...

Marissa Mayer

Former President & CEO of Yahoo!; First Female Engin...

Cindy Gallop

Tech Entrepreneur, Consultant, Founder and CEO of If...

Julia Boorstin

Senior Media & Entertainment Correspondent CNBC

Neil Blumenthal

Co-Founder and Co-CEO of Warby Parker

Pete Cashmore

Entrepreneur & Founder of Mashable

Carolyn Everson

VP, Global Marketing Solutions, Facebook

Susan Credle

Global Chief Creative Officer, FCB

Jesse Draper

Silicon Valley Insider, Digital Media Pioneer, Creat...

Tamara Roukaerts

Tamara is Director of TRM&C - a business that provid...

Shiv Singh

Founder & CEO of Savvy Matters

Alexandra Wilkis Wilson

Entrepreneur, Board Director, Investor, Advisor, Men...

Lauren Zalaznick

President, NBCU Women & Lifestyle Entertainment Netw...

Adam Ostrow

Chief Digital Officer, TEGNA

Jeff Jarvis

Leader in the Development of Online News & Blogging;...

Tim Sanders

Bestselling Author, Technology Pioneer, Expert on Co...

David Pogue

Host of NOVA ScienceNow & Yahoo Tech Columnist

Susan Lyne

President & Managing Partner at BBG Ventures
More like Rachel