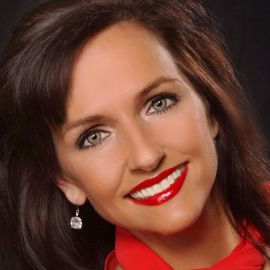 Rachel was born in Dayton Ohio to a already large family of 5. She was the baby of the family, and literally about killed her Mother on her entrance into the world. Rachel was the 5th child to a school teacher and truck driver and soon found herself as a child of a single Mom of 5 who was forced to work 3 jobs to support her children. So Rachel is no stranger to seeing and living what it means to be a virtuous woman, as she watched her Mother do it, and continue to do it. Rachel is a devoted wife, Mother of 4 and Founder of Women at the Well Ministries. She is an author and currently writing her first in-depth Bible Study. She has been the key note speaker at Mother's of Israel conference, and several of her local churches women's events. Rachel has a no filter, no bull, transparent style and weaves in God's word with her own personal life experiences to empower women and help them GET FREE AND STAY FREE. Her passion is studying scripture and then teaching those lessons to other's, with the goal that they will then turn around and pay it forward. Her #each one #teach one philosophy is her mission. She is passionate about helping women by giving them tools to help them break strong hold's so they can pursue whatever the Lord has for them. So, training them up for the call! That is what spurred her ministry. She knows that God didn't create women to just sit around and get pedicure's and swap recipes and tackle the dust bunnies everyday, but to be side by side with the men in fighting the war against evil and taking as many people to heaven with them as possible. She now does life with her best friend, her husband Curt and will tell you, her children are the best kids on the earth? They love to do Bible studies together and love traveling with their family. If she isn't at home with her family, you will find her checking something off her bucket list! Her biggest so far would be competing in figure competitions, competing at the Arnold class in fitness, being in a beauty pageant representing her county as Mrs. Miami County in the Mrs. Ohio America pageant, and authoring a 30 day bible study devotional. And, she is only getting started. She loves to weave her own personal stories in with her message, because she believes she is living her calling day by day, and sometimes it gets pretty funny! The outcome of being at a "Meet me at the well" event,is FREEDOM. Freedom to be who God made you to be, freedom from chains of bitterness, unforgiveness or shame, and trained up to go run after your dream like you are on FIRE!
Related Speakers View all
---
Jennifer O'Neill

Internationally Acclaimed Actress, Christian and Pro...

Pam Tebow

Mother of Tim Tebow; Faith-Based and Pro-Life Speaker

LaDonna Gatlin

Sister of the legendary country music group, The Gat...

Tammy Whitehurst

Christian Motivational Speaker; Founder, Joy for the...

Susie Larson

Radio Host of "Live the Promise with Susie Larson", ...

Lauren Daigle

Christian Singer-Songwriter

Lauren Scruggs

Fashion Journalist, Blogger & Author of "Still Lolo:...

Dr. Gary Chapman

Author of "The 5 Love Languages," Pastor & Speaker

Lisa Whelchel

Actress Best Known for Her Role on "The Facts Of Lif...

Angela Thomas

Best-Selling Author, Speaker & Mother

Kylie Bisutti

A Motivational Speaker to Teens, Adults, and Fellow ...

Sheila Walsh

Author, Speaker, Worship Leader, Television Talk Sho...

Lisa Bevere

Author of "Girls with Swords," Co-founder of Messeng...

David A.R. White

Christian Actor & Producer, Most Well Know for Starr...

Rachel Campos-Duffy

Parenting Expert, Author, Blogger, Political Pundit ...

Sean Lowe

Star on ABC's "The Bachelor"; Contestant on Season 1...

Janet Denison

Christian Speaker & Teacher; Author of "Content to B...

Clayton King

Pastor and Founder & President of Crossroads Ministries

Raechel Myers

Author of "She Reads Truth"

Stephanie Gray

Pro-Life Advocate; Former Executive Director & Co-F...
More like Rachel