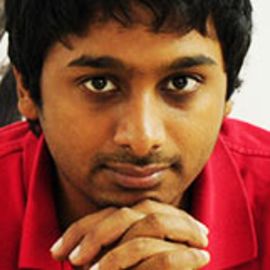 Raghava KK
Raghava KK's paintings and drawings use cartoonish shapes and colors to examine the body, society, our world.
Raghava KK began his career in art as a newspaper cartoonist, and the cartoonist's bold line -- and dead-on eye for truth -- still powers his art. His work spans painting, sculpture, installation, film and iPad art, always linked by his challenging opinions on identity, conformity, gender, celebrity, ceremony. (He even views his lavish Indian wedding as a piece of performance art.)
His early work as a painter made a complete break with his cartoon career -- he painted watercolors on canvas using only his hands and feet. Since then, his work has grown to knit together aesthetics from both worlds, as collage and complication play against flat color and precise lines. He shows in galleries and performance spaces around the world and often collaborates with other artists, most recently with musicians Paul Simon and Erykah Badu. In 2011, he launched his children's iPad book, Pop-it, shaking up the concept of an ideal family. He is currently working on a project that promises to shake up everything! From news to education.
Videos
---