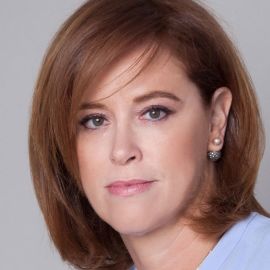 Rakefet Russak-Aminoach
Former CEO of Bank Leumi; Pioneer in the Digital Banking Field Known for launching Pepper, Israel's 1st Mobile-Only Bank
Rakefet Russak-Aminoach served as President and CEO of Bank Leumi le-Israel B.M. from 2012 to 2019. Russak-Aminoach was listed in Fortune Magazine's "100 Most Powerful Women in Business" list three times (2015, 2016, 2018), and was the only Israeli on these lists. Rakefet is considered a pioneer in the digital banking field and is known for launching Pepper, Israel's first mobile-only bank.
Rakefet Russak-Aminoach started her career as the personal assistant to Bank Leumi's then-deputy CEO Galia Maor (later known as Israel's Iron Lady of banking). The two developed a close professional relationship—so much that Russak-Aminoach's personal style hews very closely to Maor's signature look of short tucked-behind-the-ears hair and dark red nails. Though the Israeli left her mentor's tutelage and later became general manager of a major accounting firm, she eventually returned to Bank Leumi to work under then-CEO Maor as senior deputy. On May 1, 2012, Russak-Aminoach was appointed CEO of Bank Leumi. Six years after her appointment, Leumi established itself as the leading bank in Israel in terms of profits, market cap and innovation. To reach this landmark, Russak- Aminoach led a turnaround within the Leumi Group, focusing on digital transformation and enhancing efficiency.
Under her leadership, Bank Leumi began executing a business strategy that focuses, among others, on digital innovation and implementation of advanced technologies across all the Bank's business lines. In 2017, Leumi officially launched Pepper, a unique, fully digital bank, enabling complete current account management via mobile only.
In light of its achievements in the digital field, Bank Leumi has won several prestigious awards in recent years, including "Best Corporate Digital Bank in Israel" (Global Finance Magazine, 2016), and "Best Digital Bank in Israel" (Global Finance Magazine, 2017). In May 2018, Leumi won the Dell Technologies "Innovator Award" for the foundation of Pepper. Several months later, Russak-Aminoach announced her plans to expand Pepper to the US. In December 2018, Leumi was named "Bank of the Year in Israel" by The Banker magazine, mainly due to the Bank's ongoing commitment to digital innovation.
Videos
---