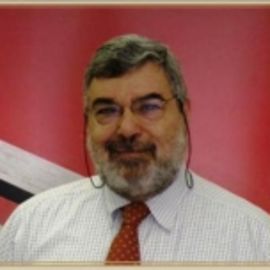 Rami Khouri knows the Middle East like no other journalist. A widely respected, internationally syndicated, political columnist, he provides a clear understanding of the global influence of the Middle East, its economy, culture, politics, and religion.
A Palestinian-Jordanian, educated in both the Middle East and the US, Khouri provides an accurate and fresh perspective on this highly influential region of the world as the Editor-at-Large of The Daily Star, the largest English language newspaper. He pens the twice-weekly "A View from the Arab World," exploring the issues of his native land, offering an analysis that is accurate, thought provoking, and always dynamic.
As the former Editor-in-Chief of The Jordan Times, Khouri wrote from Amman for international publications including The Financial Times, The Boston Globe, and The Washington Post. His work has always bridged the interests of both Middle Eastern and Western audiences with its fair, honest, and accurate analysis of the most current and important international issues.
Khouri clearly articulates the hot button topics of today that will change the scope of all enterprise, culture, politics, and security of tomorrow. Considered an authoritative expert with the inside track on the Middle East, he combines the facts and his view from the Arab world, equally outlining the dangers and opportunities of pursuing interests in this intriguing area.
Topics
• Critical Principles to Arab-Israeli Peace: The Goldstone Report
• The US as a Good Umpire: Understanding America's Role in the Middle East Using
   the Rules of Baseball
• What Has Broken Down? The Perils and Promise of Communication between the
  Arab World, the Middle East, and the West
• The Truth about Muslim Nations: Coming to Grips with the Issues of Culture,
  Governments, Business, and History
• All People Are Equal: It's in the Gospels, Koran, the Torah, the UN Charter, and the
  Baseball Rulebook
Speech Topics
---
Critical Principles to Arab-Israeli Peace: The Goldstone Report
In this seminar, Senior Fellow at the Dubai Initiative, Director of the Issam Fares Institute for Public Policy at the American University of Beirut and keynote speaker, Rami G. Khouri will discuss the Goldstone Report on Gaza.
Commissioned by the UN Human Rights Council, the Goldstone Report has immense political and legal implications for both the Palestinians and Israelis, and everyone else in the Middle East. It raises many critical issues, including the rule of law and international humanitarian law, accountability, and impunity in the Middle East as a whole.
The Goldstone report has not received sufficient analysis and debate for the critical principles it represents in terms of using international legitimacy to address the runaway plague of violence that disfigures the entire region and much of the world, says Khouri.
Will this report provide an important potential step towards reviving a serious Arab-Israeli peace process? And what are the challenges it raises for the US, Europe and the region?
The US as a Good Umpire: Understanding America's Role in the Middle East Using the Rules of Baseball
What Has Broken Down? The Perils and Promise of Communication between the Arab World, the Middle East, and the West
The Truth about Muslim Nations: Coming to Grips with the Issues of Culture, Governments, Business, and History
All People Are Equal: It's in the Gospels, Koran, the Torah, the UN Charter, and the Baseball Rulebook