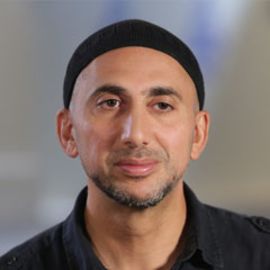 Rami Nashashibi is a community leader building bridges across racial, religious, and socioeconomic divides to confront the challenges of poverty and disinvestment in urban communities. As well, he is countering xenophobic misperceptions of immigrants with a powerful example of Muslim-led community activism and demonstrating how Islamic spiritual ideals enrich American culture. His experience as a Palestinian-American Muslim, his training as a sociologist, and his skills as a community organizer inform his role as executive director of the Inner-City Muslim Action Network (IMAN).
IMAN is a unique coalition of African American Muslims and Muslim immigrants that provide services and initiatives for vulnerable South Side Chicago residents. The numerous programs include a community clinic that provides primary health care and behavioral health services to a largely uninsured and underinsured population and a job training initiative that equips formerly incarcerated individuals with green construction skills through the renovation of foreclosed homes.
He is a 2017 MacArthur Fellow and 2018 Opus Prize laureate. Nashashibi, who has a PhD in sociology, has taught at multiple universities and the Chicago Theological Seminary. In 2016, President Obama appointed him to the President's Advisory Council on Faith-Based and Neighborhood Partnerships. He serves on the Marguerite Casey Foundation board and advises a number of strategic initiatives across the country. Nashashibi is listed among the 500 Most Influential Muslims in the World by The Royal Islamic Strategic Studies Center in concert with Georgetown's Prince Alwaleed Bin Talal Center for Muslim-Christian Understanding.
Videos
---