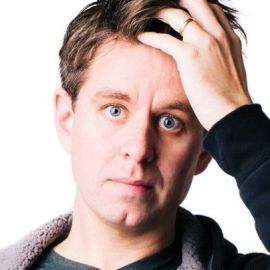 Randall Patrick Munroe is an American cartoonist, author, engineer, scientific theorist, and the creator of the webcomic "xkcd." Munroe was born in Easton, Pennsylvania, and after graduating from the Chesterfield County Mathematics and Science High School at Clover Hill, a Renaissance Program in Midlothian, Virginia, he graduated from Christopher Newport University in 2006 with a degree in physics.
Munroe worked as a contract programmer and roboticist for NASA at the Langley Research Center before and after his graduation. In October 2006, NASA did not renew his contract, and he moved to Boston to begin writing "xkcd" full-time. "xkcd" is primarily a stick figure comic with themes in computer science, technology, mathematics, science, philosophy, language, pop culture, romance and physics. The webcomic quickly became very popular, garnering up to 70 million hits a month by October 2007.
In 2010, Munroe published a collection of the comics. He has also toured the lecture circuit, giving speeches at places such as Google's Googleplex in Mountain View, California. The popularity of the strip among science fiction fans resulted in Munroe being nominated for a Hugo Award for Best Fan Artist in 2011 and again in 2012. In 2014, he won the Hugo Award for Best Graphic Story for the "xkcd" strip "Time."
In September 2013, Munroe announced that a group of "xkcd" readers had submitted his name as a candidate for the renaming of asteroid (4942) 1987 DU6 to 4942 Munroe. The name was accepted by the International Astronomical Union.
Munroe's book, "Thing Explainer," was announced in May 2015 and published late that year. It explains concepts using only the 1,000 most common English words. The book's publisher, Houghton Mifflin Harcourt, saw these illustrations as potentially useful for textbooks, and announced in March 2016 that the next editions of their high school-level chemistry, biology, and physics textbooks will include selected drawings and accompanying text from "Thing Explainer." In February 2019, Munroe announced his upcoming book "How To," which was released on September 3 that year.
Books
---