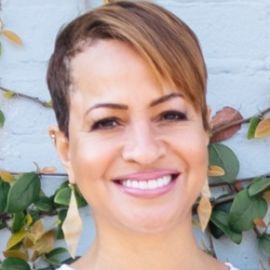 Randi Bryant
Diversity & Inclusion Strategist and Consultant; Fosters Real Dialogue About Racial, Gender and Cultural Issues
Randi Bryant, commonly referred to as Randi B., is a diversity and inclusion strategist, author, speaker, and trainer. She helps people and businesses navigate tough racial, gender, and cultural issues by equipping them with the right tools and resources to foster real open dialogue.
She knows the power of communication can lead to inclusive environments where people feel comfortable being their complete, open, and authentic selves. Focusing on her mission to get people to open up and join the conversation (while also changing the world). In her 2017 book "Neversays: 25 Phrases You Should Never Ever Say to Keep Your Job and Friends," Bryant provides real, practical advice on how to navigate difficult conversations and topics. The tenets of the book are based on her belief that people are good, but uninformed and uncomfortable with differences.
Through her speeches, training, and one-on-one services, Bryant equips people with the right tools to engage in honest conversations about race, gender, sexuality, religion, cultural and diversity issues.
As the founder and president of award-winning change management company Bryant Consulting Group, Bryant has a wealth of knowledge and experience navigating the tough dialogues that come with discussing diversity and inclusivity issues.
She holds a bachelor's degree from Tuskegee University, a master's degree in education from William & Mary, and a Ph.D. from the University of Virginia.
Videos
---
Related Speakers View all
---
Lauren Aguilar

Founder & Head of Inclusion and Diversity at Forshay

Jay Bendett

Co-Founder & Director of Diversity, Equity and Inclu...

Lesa Bradshaw

Diversity & Disability Inclusion Specialist

Adelmise Rosemé Warner

Senior Director of Global Employee Relations at Appl...

David Julius King, III

Head of Employee Experience, Diversity & Belonging a...

Greg Jenkins

Founder & CEO of Greg Jenkins Consultant; Diversity ...

Cynthia Owyoung

Vice President of Diversity & Inclusion at Charles S...

Dr. Sarah Saska

Co-Founder & CEO of Feminuity, A Strategy Firm That ...

Dr. Akilah Cadet

Founder & CEO of Change Cadet, A Consulting Firm Hel...

Aiko Bethea

Founder of RARE Coaching & Consulting; Anti-Racism a...

Minda Harts

Founder & CEO of The Memo, A Career Development Plat...

Seconde Nimenya

Award-Winning Author, Inspirational Speaker, Educati...

Michelle Kim

Entrepreneur & Diversity and Inclusion Expert; Co-Fo...

Caroline Wanga

Interim-CEO, Essence Communications; Former VP of Di...

Melinda Briana Epler

Founder & CEO of Change Catalyst; Thought Leader on ...

Aubrey Blanche

Diversity & Belonging Expert, Startup Advisor

Tariq Meyers

Thought Leader on Workplace Diversity & Inclusion; F...

Joelle Emerson

Founder & CEO of Paradigm; Diversity, Inclusion and ...

Carin Taylor

Chief Diversity Officer at Workday

Damien Hooper-Campbell

Chief Diversity Officer at Zoom; Former Chief Divers...
More like Randi