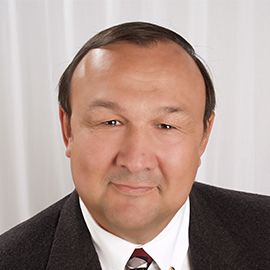 Randy Goruk
Strengthening Leadership Skills - Improving Behavior - Elevating Individual and Organizational Performance
Randy Goruk believes, "Leaders are as good as you make them or as bad as you let them be."
His focus therefore, is on strengthening leadership skills, improving leadership behaviors and elevating individual and organizational performance.
His memorable presentations, are designed to provide knowledge and to help plant seeds of creative thought in leadership for results.
Randy has been speaking to groups for over 30 years. A seasoned, versatile and compelling speaker, he speaks with candor that will educate and inspire any size of audience on relevant leadership topics of today.
Randy has a personal and casual delivery style that earns the trust and confidence of large audiences. In smaller groups Randy excels at interactive "town hall meeting" venues.
He uses proven presentation concepts but customizes content for each presentation to make it personal and poignant to each client's specific needs.
With more than three decades of extensive hands-on leadership experience, Randy has a unique seasoned executive perspective enabling him to design and deliver exceptional leadership seminars, workshops and keynotes with proven results.
Related Speakers View all
---
Rolfe Carawan

President of LifeMatters International; Accountabili...

Gary Hernbroth

A straight-talking, humorous, and engaging speaker, ...

Sheldon Yellen

CEO, BELFOR

Patrick Lencioni

Management Consultant; Founder & President of The Ta...

Joseph Grenny

New York Times Bestselling Author; Leading Social Sc...

Yvan J. Garcia

I am an extremely motivated individual who likes to ...

Bill Wooditch

Founder, CEO, and president of The Wooditch Group

Col. Parker Schenecker

Leadership & Ethics Speaker for "Because I Said I Wo...

Jay Rifenbary

Author of "No Excuse!"

Dr. Ken Druck

Speaker, thought leader, executive coach/consultant ...

Val McLeod

Inspirational Influencer and Empowerment Speaker and...

Mark Anthony McCray

Entrepreneur, Speaker, Writer, Credit Repair Guru an...

Dr. Mollie Marti

Dr. Mollie Marti is a performance psychologist, univ...

Michael Pantalon, Ph.D.

Clinical Psychologist and Expert on Influence

Biagio W. Sciacca, PhD

Author, Speaker, Higher Education Professional

Michael Clayton

Listing contains only agency name, phone and message...

John Hall

Co-Founder & CEO of Influence & Co.

Anne Walker

Inspiring keynote/ seminar messages with a twist of ...

Robert Carrow

Communication, Public Speaking & Persuasive Presenta...

Brian Klemmer

Brian Klemmer is an international consultant and spe...
More like Randy