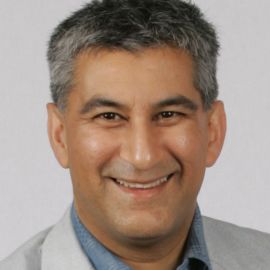 Ravi Tangri
The rocket scientist of leadership - helping leaders simplify and solve todays tough problems
Why transformational leadership just isn't enough any more.
Today things are so complex that no one leader can have a clear vision forward. Today's leader has to admit they only have one piece of the puzzle and engage all the key stakeholders to co-create a new way forward. They need to engage their key stakeholders in meaningful conversations that move to meaningful action.
This is Co-Creative Leadership, and Ravi Tangri is an expert in how to grow co-creative leadership in your organization. He helps leaders navigate complexity by engaging all the key players to co-create the way forward. Ravi is a powerful facilitator and a steward of the Art of Hosting Meaningful Conversations, having mastered co-creative processes such as World Cafe, Open Space Technology, Circle Practice and his own Genesis breakthrough facilitation process.
Ravi learned how to simplify complexity and chaotic systems in his first career as a nuclear physicist - he learned how to find and use the leverage points that make everything shift. This expertise is the lens he uses in the corporate arena to help you grow your co-creative leadership skills, engage key stakeholders and find the leverage points to co-create win-win-win solutions to the complex challenges you face.
While he uses quantum physics to create innovation, his solutions are refreshingly easy to understand and use. He speaks in plain English.
When Ravi says leadership is not rocket science, you can believe him - he is a rocket scientist.
Ravi Tangri is the Chief Rocket Scientist for Chrysalis Strategies and the author of StressCosts Stress-Cures, which shows that the root causes of stress and life-work imbalance in the workplace are corporate culture and leadership, and in which he gives you a simple formula to calculate the what stress costs your organization in dollars and cents. He is a National Director of the Canadian Association of Professional Speakers (CAPS), and he has earned the Certified Speaking Professional (CSP) designation, held by fewer than 10% of all professional speakers worldwide.
Ramp Up the ROI of Your Meetings
It's been said that much of what you hear in a keynote is lost by the end of the conference, and litle is left by the time you return to work - and despite that, speakers still have incredible impact and are a worthwhile investment.
Imagine if people could retain twice as much. Or five times as much. Or even more. Imagine the impact that would have. That's exactly what Ravi Tangri can help you do.
Ravi is an expert at giving your meeting ROI a quantum leap. He is a master of co-creative strategies including World Cafe and Open Space, which actively engage all attendees in applying what they've learned. They leave your meetings with specific plans to apply what they've learned, not just basic ideas and concepts.
Ravi can follow his keynote or any other one - or close the conference - and lock the learnings in for your participants, moving them to action.