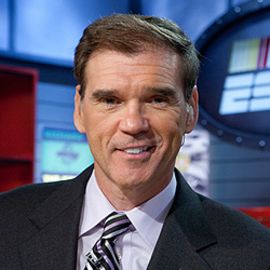 Driven by a passion for automobiles, Ray Evernham started working on short track race cars at age 15 and never looked back. Since then, he has designed, built and driven some of the most advanced race cars known to man.
His drive to succeed in motorsports created opportunities for him in both the auto racing and technology industries.
In 1983, Evernham worked with Roger Penske and Jay Signore to resurrect the International Race of Champions (IROC) series. The opportunity offered Ray the chance to work with the world's best racers, including Mario Andretti, A.J. Foyt, Dale Earnhardt, Darrell Waltrip and Bill Elliott. The experience taught Evernham, as team manager, the value of team success and priceless lessons in the business of racing.
In 1993, Ray was offered the opportunity to team with, up and coming driver, Jeff Gordon as his crew chief at Hendrick Motorsports. He would go on to revolutionize the crew chief role at NASCAR's highest level of competition, as leader of the Rainbow Warriors.
During his tenure with Gordon, he earned three championships and 47 wins in 216 NASCAR Cup series starts, including two Daytona 500 victories and the inaugural Brickyard 400. His success earned him crew chief of the decade honors in 2000, and his innovative work with pit crews continues to set the performance standard today. His thumbprint also remains on engineering systems used throughout the industry.
In 2000, Evernham's quest for personal growth and challenge drove him to take the ultimate risk, team ownership. Relying on his own unique experiences as a driver and leader, along with his self prescribed "20 points for success," his goal was not only to build a championship caliber race team but a performance and technology based organization to transform the industry. Ray teamed up with Daimler Chrysler performance brand Dodge to spearhead the unproven manufacturer's re-entry into NASCAR racing from start to finish. In less than 500 days, Evernham Motorsports was a reality. A historic Daytona 500 pole at the team's 2001 debut set the tone for the organization with Bill Elliott behind the wheel. Evernham Motorsports blazed a new trail in performance by creating an environment where technology and racing were co-dependent.
In 2006, the media voted Ray Evernham the greatest crew chief of all time, an honor he believes to be his highest recognition to date.
In 2014, following a five-year absence from the competition side of NASCAR, Ray accepted a consulting position at Hendrick Motorsports.
Now through his TV show AmeriCarna, Ray gets to share his passion for automobiles and reveal the untold stories of cars that have so heavily influenced American culture as we know it today.
In January 2018, Evernham was inducted into the NASCAR Hall of Fame.
Related Speakers View all
---
Chad Knaus

NASCAR Crew Chief for Jimmie Johnson No. 48 Lowes Ch...

Herman "Herm" Edwards

Arizona State Head Football Coach, Former ESPN Footb...

Joe Theismann

World Champion Quarterback, Broadcaster & Entrepreneur

Justin Bell

World Champion Race Car Driver; Host of "Worlds Fast...

Dylan Kwasniewski

Professional Race Car Driver; Youngest Winner in NAS...

Vince Papale

Former NFL Player & Inspiration for the Movie "Invin...

Mike Eruzione

Captain of the 1980 US Olympic Hockey Team & Subject...

Hines Ward

Retired American Football Wide Receiver, NBC Studio ...

Larry McReynolds

One of NASCAR's Most Successful and Recognized Crew ...

Pat Williams

Motivational Speaker & Sports Executive; Senior Vice...

Tony Stewart

Auto Racing Driver, Businessman and Team Owner

Vince Poscente

Former Olympic Speed Skier, Leadership & Sales Exper...

Richard Petty

Former NASCAR Race Car Driver

Brian Holloway

Five-Time NFL All-Pro; Motivation & Team Building Ex...

Jim Abbott

Former One-Handed Major League Baseball Pitcher

Richie Parker

Motivational Speaker; NASCAR Engineer Born Without Arms

Kyle Larson

Professional Stock Car Racing Driver &World of Outla...

Bill Walton

Basketball Legend, Broadcaster & Humanitarian

AJ Allmendinger

Professional Stock Car Racing Driver

Jim Morris

Known for His Brief MLB Career & Subject of Disney's...
More like Ray