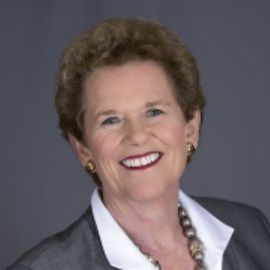 Rayona Sharpnack
CEO & Founder, The Institute for Gender Partnership & Institute for Women's Leadership
Rayona Sharpnack is the founder ad CEO of the Institute for Women's Leadership, a renowned organization known for spearheading initiatives in leadership and organizational effectiveness for the past 25 years. Drawing from successful careers in education, professional sports, and business, Rayona is an inspirational teacher, coach, and mentor to senior executives across industries. She is also the founder of the Institute for Gender Partnership™, an organization that works with top-level executives to bring the substantial benefits of full Gender Partnership™ to their organizations—financially and beyond.
Rayona's clientele is comprised of government agencies, universities, nonprofits, and Fortune 500 companies, including Pfizer, Gap Inc., Hertz, Cardinal Health, Teva Pharmaceuticals, Microsoft, Proctor & Gamble, Hewlett-Packard, and World Pulse. Her masterful approach takes complex theoretical concepts and distills them into accessible education and training. Through their dedicated guidance, Rayona and her team have helped more than 20,000 women and men, ranging from mid-level managers to C-suite executives, to realize groundbreaking results and renewed potential in both their professional and personal lives.
Her pioneering work has garnered widespread recognition, including showcases of her leadership model by The New York Times and Fast Company, as well as her appointment as Chairwoman of Leadership Development on the Women's Leadership Board of Harvard's Kennedy School of Government.
She has presented her outstanding achievements in advancing women leaders and building high-performance teams to prestigious institutions such as:
Harvard University
Stanford Business School
U.C. Berkeley's Haas School of Business
State of the World Forum
Canadian Federal Government
Australian Federal Government
Leadership America
Professional and Business Women of California
Videos
---
Speech Topics
---
Contextual Leadership: Shifting Your Context
"Although we may think that we act freely based on a rational assessment of the objective audience, this isn't the case. The real source of people's actions is not what they know, but how they perceive the world around them and what conclusions they draw as a result."
Based on her book, Trade Up: Five Steps for Redesigning Your Leadership and Life Inside Out, Rayona shares how to Trade Up and change your perspective, in addition to offering her "Secret Sauce" of Breakthrough Leadership.
Gender Partnership: Cracking the Code
"We are at the precipice of a miraculous moment in time ... We are actually at a point where we can change the tide. Now men and women are together to talk about Gender Partnership ... Men of quality are never threatened by women's equality."
Addressing the shift in workplace conversation that has risen from a shift in social attitudes, Rayona discusses the best ways in which to seize this opportunity to demonstrate the (common-sense) success made possible through equality.
Gender Partnership
"What are the reinvented contexts that move us from, 'Gender Partnership is the right thing to do,' to, 'Our whole organizational strategy depends on the full partnership of men and women'?"
Rayona shares her thoughts on Essential Elements for Creating True Gender Partnership in your organization, including: Empowering Women For and With Each Other, Engaging Men to Advance Women, and Removing Institutional Barriers and Blind Spots.
Men as Allies
"This work isn't anyone helping others out — our liberation, our future, our economic abundance is dependent upon this work."
Rayona discusses why men can help women work to their full capacity as leaders - and why they should.
Women Empowering Women
"For every one courageous female willing to fight for retribution for unfair treatment, there are a thousand others willing to walk away."
Rayona outlines the process of revealing, assessing and designing innovative approaches to transforming the relationship that women have with one another; ultimately, it's imperative that women trade up their own contexts about empowering other women.
Related Speakers View all
---
Stephen Viscusi

Headhunting Consultant, Author, & Columnist; CEO and...

Dr. Michael Kaufman

Author & co-founder of the White Ribbon Campaign; Ad...

Allyson Kapin

Founder of Women Who Tech; Founder of web agency Rad...

Nicole Yeary

Founder & CEO of Ms.Tech

Daymond John

"Shark Tank" Investor; Founder & CEO of FUBU; Presid...

Jeffery Tobias Halter

Consultant, Gender Strategist and President of YWomen

Cynthia Germanotta

Co-Founder of the Born This Way Foundation with Daug...

Amy DuBois Barnett

Chief Content Officer, theGrio.com & EVP Digital, En...

Carla Harris

Vice Chairman, Managing Director and Senior Client A...

Jennifer Brown

President & Founder at Jennifer Brown Consulting, Le...

Oprah Winfrey

CEO of Oprah Winfrey Network, Presidential Medal of ...

Iris Krasnow

Best-Selling Author & Relationship Expert

Jackson Katz

Anti-Gender Violence Activist, Author

Sherry Lansing

Former CEO of Paramount Pictures & Founder of The Sh...

Stedman Graham

Chairman & CEO of S. Graham & Associates, Leadership...

Lenora Billings-Harris

Multicultural Diversity Expert & Author

Marla Blow

Senior Vice President of Mastercard Center for Inclu...

Roy Gluckman

Equality, Diversity & Inclusion Specialist, CEO of C...

Ukonwa Ojo

Senior Vice President of Covergirl & Chief Marketing...

Kat Holmes

Director of User Experience at Google; Founder of Mi...
More like Rayona