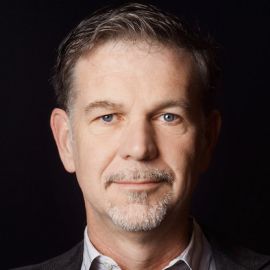 Reed Hastings
Co-Founder & Co-CEO of Netflix, Advocate for Education Reform Through Creation of Charter Schools
Reed Hastings co-founded Netflix in 1997 and launched the subscription service in 1999. Netflix grew to one million subscribers in less than four years, and, as of April 2019, had over 148 million paid subscriptions worldwide, including 60 million in the United States.
Hastings has headed Netflix while the company underwent major changes, including the transition from a company focused on renting out DVDs to what is today primarily a streaming service, albeit one that still has an option for a subscription that includes DVD and Blu-Ray rentals. Today, Netflix is in transition once more, preparing for the saturation of the streaming service industry with more competitors.
In 2012, Netflix introduced "Lilyhammer," their first series, entering the content-production industry, which they are now dominant in. In 2016, Netflix released an estimated 126 original series and films, more than any other network or cable channel. Their Netflix originals include hits such as "Stranger Things," "The Crown," "When They See Us," "Mind Hunter," and "The Umbrella Academy."
Prior to developing Netflix, Hastings founded Pure Software, which he built into one of the world's 50 largest public software companies. After a successful public offering and a number of acquisitions, Pure was acquired by Rational Software in 1997.
Hastings is an active educational philanthropist and board member of many non-profits. In addition, he was President of the California State Board of Education from 2000 to 2004. He has led successful statewide political campaigns for more charter public schools and easier passage of local school bonds.
Hastings received a BA from Bowdoin College in 1983 and an MSCS degree from Stanford University in 1988. He holds several patents. Between Bowdoin and Stanford, Hastings served in the U.S. Peace Corps as a high school math teacher in Swaziland.