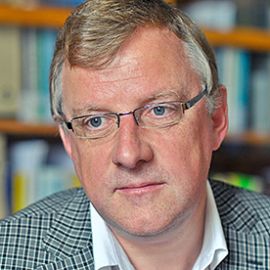 Reimund Schwarze is head of the research group on "climate change and extreme events" at the Helmholtz-Centre for Environmental Research – UFZ and Professor of Environmental Economics at the University of Frankfurt/Oder. He graduated in the field of economics at the University of Berlin in 1984.
Throughout 1985-1988, he worked for the Environmental Protection Agency of Germany in Berlin. He had various research fellowship in the U.S., among them the Institute for International Studies (IIS) of Stanford University (1999/2000), the University of Pennsylvania (2008) and the environmental think tank "Resources for the Future", Washington D.C. (2014).
He is the author of several books and journal papers on Climate Change Policy and Natural Hazards Economics and has served as an expert for public hearings on climate change and extreme events of the German Parliament and the German Ministry of Environmental Affairs. He coordinated the EU FP 7 project "Cost of Natural Hazards" at UFZ and is an executive board member of the German Committee for Disaster Risk Reduction (DKKV).
Reimund Schwarze is leading author of the chapter "Urban resilience finance and economics" in the 2nd Assessment Report "Climate Change in Cities" (ARC3.2) of the Urban Climate Change Research Network (UCCRN). Jointly with Dr. Stephan Bartke, he coordinates the US-German expert platform www.de-us.net. This network of young and senior professionals interested in "Future Cities" facilitates the exchange of ideas as well as the access to expert knowledge and markets in Germany and the United States.
His areas of expertise and research include sustainability economics, international climate change policy, management of soil and groundwater contamination, management of natural hazards, and environmental liability and insurance.
Related Speakers View all
---
Kaitlin Crouch-Hess

Sustainability Manager at ING Bank

Dianne McGrath

Researcher, Consultant & Mars One Astronaut Candidat...

Dr. Afshin Afshari

Professor of Practice, Masdar Institute of Science a...

Jake Layes

Director, Global Cleantech & Entrepreneur Impact, Au...

Grace Obado

Chief Executive Officer , Hidrolution Kenya

Daniel Pauly

Daniel Pauly is the principal investigator at the Se...

George Elvin

Green Innovation Speaker & Author

Roxanne Joyal

CEO of Me to We and a founding member of Free The Ch...

Su Kahumbu

Agriculturalist, Social Entrepreneur & Founder of iCow

Leo Johnson

Co-Presenter of Radio 4's "FutureProofing," Disrupti...

Claire A. Nelson Ph.D.

Futurist, Sustainability Engineer, Social Entreprene...

Lauren Singer

Advocate for Zero Waste, Blogger & Founder of The Si...

Ed Gillespie

Environmental Entrepreneur, Futurist & Author of "On...

Leonardo Martinez-Diaz

Global Director, Sustainable Finance Center of the W...

Meryam Omi

Head of Sustainability and Responsible Investment St...

Alexandria Lafci

COO & Co-Founder of New Story, A Nonprofit Transform...

Marga Hoek

International Thought Leader on Sustainable Business...

Barney Swan

Founder of ClimateForce, A Non-Profit That Aims to R...

Markus Mutz

CEO of OpenSC, An Impact Venture Trying to Make More...

Benny Jacobs-Schwartz

Avian Field Biologist, International Bird Guide, Wil...
More like Reimund