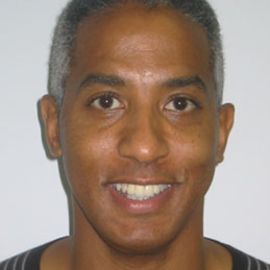 Renaldo Nehemiah
World Record Holder in the 110 meter hurdles; Former Professional Football player for the San Francisco 49ers
Renaldo Nehemiah, the former world record holder in the 110 meter high hurdles, is world renowned not only for his remarkable performance in track and field but also for his career as a National Football League wide receiver for the San Francisco 49ers, his four Superstars victories and his experience as a Sports commentator.
Renaldos time of 12.93 for the 110-meter high hurdles was established in 1981 in Zurich, Switzerland. Renaldo was the first man ever to be timed under 13 seconds in this event and is regarded as the best hurdler of all time.
In 1982, after domination of the hurdles for four consecutive years, Renaldo relinquished his amateur status and entered the rugged and more violent world of professional football. Although having no college experience in this sport, Renaldo showed his versatility and perseverance with a successful career as a member of the World Champion San Francisco 49ers, in which he was also a member in 1984 when San Francisco won their second Superbowl. A milestone few NFL players achieve. Renaldo played for the 49ers from 1982-1986.
Renaldo competed in the superstars event that annually matches top athletes from a variety of sports. During the years of 1981-1983, against the best athletes from football, baseball, boxing, basketball and golf, Renaldo won the overall competition three consecutive years. After a two-year absence imposed by the Superstars Committee because of his domination of the event, Renaldo returned in 1986 to again win the overall Superstars competition.
After four years of challenging the rules of amateurism in court, Renaldo set a precedent becoming the first amateur ever to play professional football and be reinstated to run track and field. Today, in what is appropriately called the Nehemiah Rule; professional athletes can now participate as amateurs in track and field.
Renaldos athletic career received its highest awards; on December 4, 1997 he was inducted into the National Track & Field Hall of Fame. On May 15, 1998 he was inducted into the State of New Jersey Sports Hall of Fame. And on May 13, 1999 he was inducted into the University of Maryland Hall of Fame.
Renaldo continues to be a multi-faceted individual. Hes President of Athletics Promotion Ltd, an athletes representation & sports marketing firm in Reston, Virginia. He manages some of the worlds top male and female athletes among them Olympic & World Champion medalist. He oversees their marketing strategies, contract negotiations, budget management, and recruiting. He has served on the University of Maryland Terrapin Club managing board, which raises money to fund athletic scholarships. And he served on the University of Maryland Athletic Capital Campaign Cabinet that raises funds for various campus athletic projects.
Videos
---
Related Speakers View all
---
Justin Gatlin

Olympic Sprinter

Jordan Fliegel

Founder, CoachUp; a service that connects athletes w...

Antonio Pierce

Super Bowl Champion, New York Giants, ESPN Football ...

Dwayne Goodrich

Former Dallas Cowboys Defensive Back; Speaks on the ...

Hank Baskett

Former NFL Wide Receiver

Michel Faulkner

Pastor of New Horizon Church, Social Entrepreneur & ...

Akbar Gbajabiamila

Inspirational Former NFL Player & Broadcaster

Herman "Herm" Edwards

Arizona State Head Football Coach, Former ESPN Footb...

Michael Irvin

NFL Hall of Fame Wide Receiver & NFL Analyst

Sanya Richards-Ross

Olympic Champion, TV Personality & Entrepreneur

Sergio Garcia

Professional Golfer, Winner of the 2017 Masters Tour...

Billy Mills

Second Native American to Win an Olympic Gold Medal ...

Al Joyner

1984 Olympic Gold Medalist in the Men's Triple Jump

Dave Johnson

Two-Time Olympian & Author of "Aim High"

Darrell Green

Seven-time all-pro defensive back with the Washingto...

Ernie Els

Former World #1 Professional Golfer

Brian Dawkins

All-Pro Safety, Philadelphia Eagles, NFL Analyst, ESPN

Bryan Clay

Decathlon World Champion

Cris Carter

ESPN Analyst, Former NFL Star Receiver & Pro Footbal...

James Brown

Sportscaster, Known for CBS's "The NFL Today" and Sh...
More like Renaldo