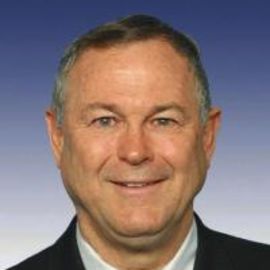 Rep. Dana Rohrabacher
Member of the U.S. House of Representatives from California's 46th district
Currently serving his 12th term in Congress, Dana Rohrabacher represents California's scenic 46th District. Stretching along the Pacific coastline of Orange County and Los Angeles from Huntington Beach to the Palos Verdes Peninsula, the district includes Huntington Beach, Costa Mesa, Fountain Valley, Seal Beach, Santa Catalina Island, Midway City, Sunset Beach, Surfside, Rancho Palos Verdes, Rolling Hills, Palos Verdes Estates and Rolling Hills Estates as well as portions of Long Beach, Westminster, Santa Ana and San Pedro, and Newport Beach.
 As Chairman of the Oversight and Investigation Subcommittee of the House Foreign Affairs Committee, Rohrabacher is a most forceful spokesman for human rights and democracy around the world. For example, during the 110th Congress, Rep. Rohrabacher championed the effort to boycott the 2008 Beijing Olympics by introducing a resolution to that effect emphasizing China's litany of human rights violations. Rohrabacher is also committed to securing our borders and a staunch opponent of amnesty for illegal immigrants. During his tenure as Chairman, one of his first priorities was to investigate the U.N. Oil for Food program and potential foreign influence in the Oklahoma City Bombing. Rep. Rohrabacher will continue to look into technology transfer issues, visa policies practiced by the State Department, Chinese proliferation of nuclear weapons technology as well as other volatile areas of concern such as the massive cultivation of opium poppies in Afghanistan. As a senior member of the International Relations Committee, Rohrabacher led the effort to deny Most Favored Nation trading status to Communist China, citing the rogue nation's dismal human rights record and opposition to democracy.

 Rohrabacher is a strong voice for lower government spending and taxes. His record of fiscal restraint and pro-growth policies has won him acclaim from the National Taxpayers Union, Citizens Against Government Waste, the U.S. Chamber of Commerce and the National Federation of Independent Business.