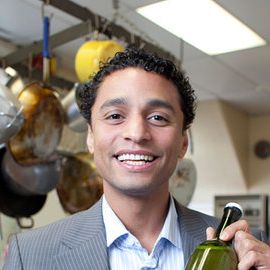 Reuben Canada
Owner; Canada Enterprises
A search for the ideal cocktail mixer led Reuben Canada down the path of entrepreneurship.
Canada was a patent attorney when he began to combine ingredients in a bid to concoct his ideal beverage.
After some experimentation, he combined ingredients including fresh ginger, cayenne pepper and green tea.
Jin+Ja is designed to be imbibed hot or cold and combined with alcoholic or non-alcoholic beverages.
Early batches were sold in 2010 at a small market near Canada's Philadelphia apartment.
Now distribution includes 42 Whole Foods stores and other food markets, and several college campuses.