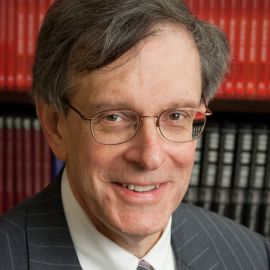 Since 1992, the Rev. Barry W. Lynn has served as executive director of Americans United for Separation of Church and State, a Washington, D.C.-based organization dedicated to the preservation of the Constitution's religious liberty provisions.
In addition to his work as a long-time activist and lawyer in the civil liberties field, Lynn is an ordained minister in the United Church of Christ, offering him a unique perspective on church-state issues.
An accomplished speaker and lecturer, Lynn has appeared frequently on television and radio broadcasts to offer analysis of First Amendment issues. News programs on which Lynn has appeared include PBS's "NewsHour," NBC's "Today Show," Fox News Channel's "O'Reilly Factor," ABC's "Nightline," CNN's "Crossfire," CBS's "60 Minutes,"ABC's "Good Morning America," CNN's "Larry King Live" and the national nightly news on NBC, ABC and CBS.
Lynn served for a decade as host of the syndicated radio show "Culture Shocks," a daily look at various issues affecting society and the culture. In the 1990s he was the regular co-host of "Pat Buchanan and Company" and after that did a weekly syndicated radio program, "Review of the News," with Col. Oliver North. Lynn is a regular guest on nationally broadcast radio programs, including National Public Radio's "All Things Considered," "The Diane Rehm Show," "Morning Edition" and "Talk of the Nation." He also appeared on every other national radio network.
Lynn began his professional career working at the national office of the United Church of Christ, including a two-year stint as legislative counsel for the Church's Office of Church in Society in Washington, D.C. From 1984 to 1991 he was legislative counsel for the Washington office of the American Civil Liberties Union.
In 2006, Lynn authored Piety & Politics: The Right-Wing Assault On Religious Freedom (Harmony Books). In 2008 he coauthored (with C. Welton Gaddy) First Freedom First: A Citizen's Guide to Protecting Religious Liberty and the Separation of Church and State (Beacon Press). His latest book is God & Government: Twenty-Five Years of Fighting for Equality, Secularism, and Freedom Of Conscience (Prometheus Books).
Lynn writes frequently on religious liberty issues, and has had essays published in outlets such as USA Today, The Los Angeles Times, The Wall Street Journal and The Nation. Lynn also has op-eds published frequently by the McClatchy and Scripps-Howard newspaper chains.
A member of the Washington, D.C. and U.S. Supreme Court bar, Lynn earned his law degree from Georgetown University Law Center in 1978. In addition, he received his theology degree from Boston University School of Theology in 1973.
Lynn is the winner of many national awards, including the Freedom of Worship Award from the Roosevelt Institute, the Puffin/Nation Foundation's Creative Citizenship Award, the American Humanist Association's Religious Liberty Award and an award from the Hugh H. Hefner Foundation for his work to protect freedom of speech.
Lynn, who was born in Harrisburg, Pa., and raised in Bethlehem, Pa., lives in Chevy Chase, Md., with his family.
Videos
---
Related Speakers View all
---
Shane Harris

Pastor, Activist & San Diego Chapter president of th...

Thubten Chodron

Teacher, Author, Abbess

Geoff Shepard

Lawyer, Lecturer, and Author, "The Real Watergate Sc...

Levi Lusko

Pastor of Fresh Life Church, Author

Zuhdi Jasser, M.D.

Founder and President of the American Islamic Forum ...

Dianne Feinstein

Senior US Senator for California

Michael Bloomberg

Founder of Bloomberg LP & Bloomberg Philanthropies; ...

Del Tackett

Architect and Teacher of The Truth Project

Nina Fuller

Founder of Living Proof Testimonies; Pro-Life and Do...

Bill Maher

Political Satirist & Host of HBO's "Real Time"

Geoff Colvin

Senior Editor-at-Large, Fortune Magazine, and Author...

William J. Federer

Nationally Known Speaker, Bestselling Author & Presi...

Rami Nashashibi

Co-Founder & Executive Director of the Inner-City Mu...

Chuck Lief

President of Naropa University

The Venerable Tenzin Priyadarshi Rinpoche

Founding President and CEO, The Dalai Lama Center fo...

Colleen Carroll Campbell

Author, Print & Broadcast Journalist and Former Pres...

Sharon Brous

Senior and Founding Rabbi of IKAR

Father Patrick Desbois

Founder of Yahad-In Unum, Action Yazidis, French Rom...

Tiffany Stanley

Managing Editor and Creator of Religion & Politics, ...

Sid Bream

Renowned Atlanta Braves 1st Baseman
More like Rev.